One of the most basic suspension mods that you can do for your Evo to improve the handling and looks dramatically is a lowering spring installation. There are some great options available whether you're looking for a spring to compliment your new wheels or you're a weekend racer/enthusiast looking for something to reduce body roll while not ready to commit to the cost of a coilover kit.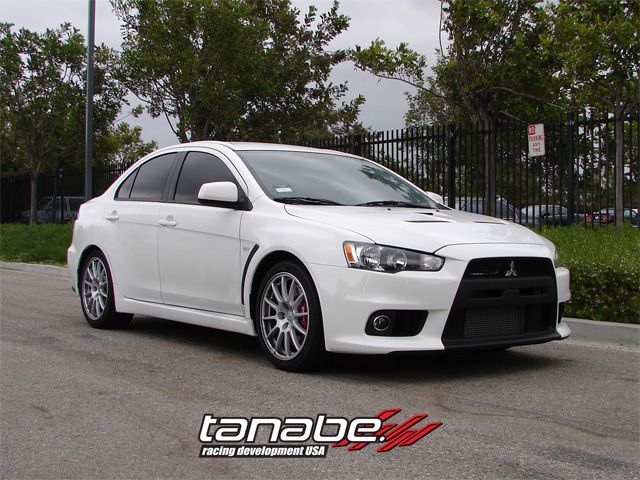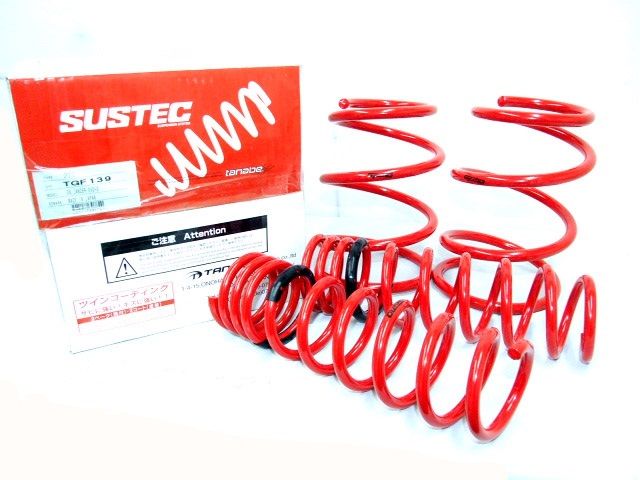 First up is an offering from Tanabe. The GF210 lowering spring drops the stance of your Evo by 0.7" in the front and 1.1" in the rear. The spring rates are geared more towards a front bias to keep oversteer in check for the average spirited driver. Rates are: 241 lbs/in front and 196 lbs/in for the rear (4.3Kg/mm front and 3.5Kg/mm rear).
If you're looking for a bit more drop and slightly less performance, Tanabe also produces their DF210 spring offering a 1.1" drop for the front and a 1.4" drop for the rear. The spring rates for the DF springs are slightly harder in the front at 4.5 Kg/mm and a tad softer in the rear at 3.3 Kg/mm.
Tanabe has been producing high quality components since the early 1980's and their wealth of experience in the field shows through the quality of their offerings every time.
Priced at:
$240 shipped* in the lower 48 states *International rates available as well.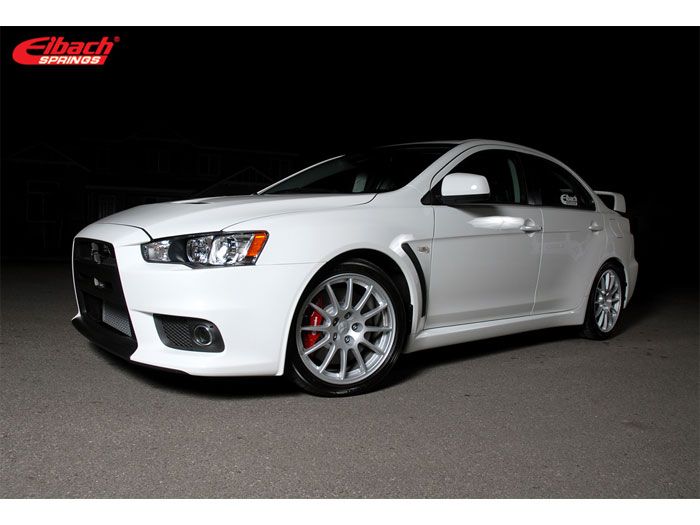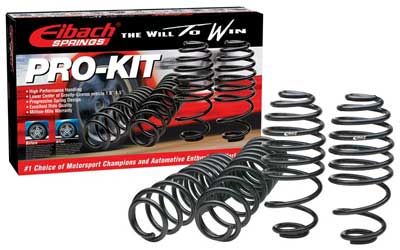 Boasting one of, if not THE best warranty of any other suspension manufacturer (1,000,000 miles!) is the Eibach Pro-kit. This has been a pretty popular seller here for our local customers. I must say from experience, the Eibach pro-kit coupled with their front and rear sway bars will transform your car into totally different beast. The drop for the Eibach springs is mild at 1.2" in the front and 1" at the rear. Spring rates are progressive, resulting in 2.6 - 4.9 Kg/mm for the font and 1.8 - 4.8 Kg/mm in the rear. Set these up with a high quality strut and you probably wouldn't even feel the need to purchase a set of entry level coilovers to begin with. On top of the performance, you can't go wrong with a set of springs that are warrantied to outlast your car many times over.
Priced at: $235 shipped* in the lower 48 states *International rates available as well.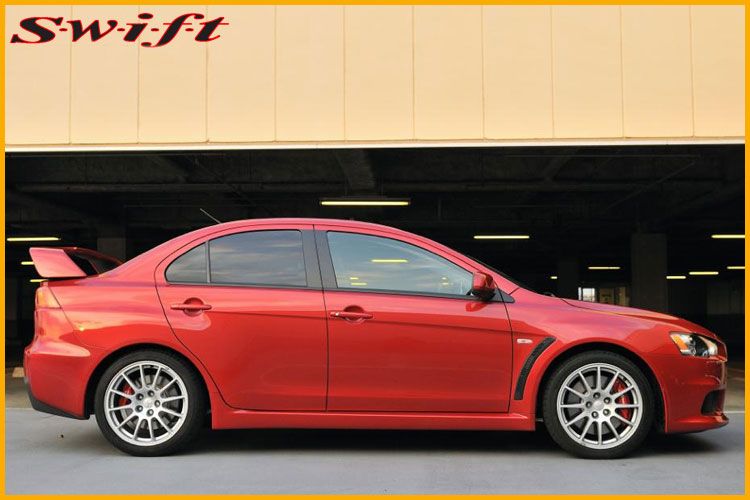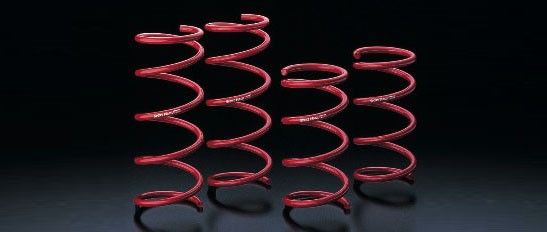 Next up is a track proven offering from Swift Sports. Hands down, the Swift Sports springs are the most popular lowering spring for the Evo X (with good reason). The Swift lowering springs drop the ride height by 1" in the front and 0.6" in the rear. An almost flat spring rate of 4.3 Kg/mm front and 4.4 Kg/mm rear aids in maintaining almost neutral handling characteristics. The springs are also much lighter due to reduced coil count thanks to Swift's signature construction methods.
Priced at: $299.35 + shipping (varies upon location
)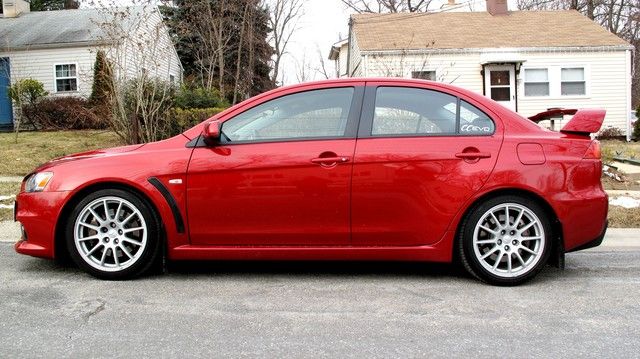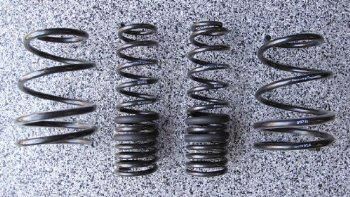 Yet another track proven spring is produced by the minds of Racecomp Engineering. Racecomp lowering springs have become quite popular in the Subaru community due to the predictable behavior induced by the flat characteristics of their springs. The Evo appliction sports a ride height drop of .9" front and rear, along with equal spring rates of 300 lbs/in front and rear (5.4Kg/mm). Despite these rather aggressive rates compared to other offerings, the ride quality does not suffer noticeably while the increase in initial turn-in and general handling characteristics over stock are like night and day.
Priced at: $347 shipped* in the lower 48 states *International rates available as well.
If you see anything here that you are interested in, don't hesitate to shoot us a PM or comment below. More updates to come!
Thank you,
Steven Watson
StevenW@motionlabtuning.com