When it comes to fuel system upgrades, dont risk the health of your engine using inferior quality components. Motion Lab only uses and sells the BEST quality fuel upgrades available on the market. Top brands like Injector Dynamics, AEM Electronics, Radium Engineering, Walbro, Aeromotive, and more available at great prices.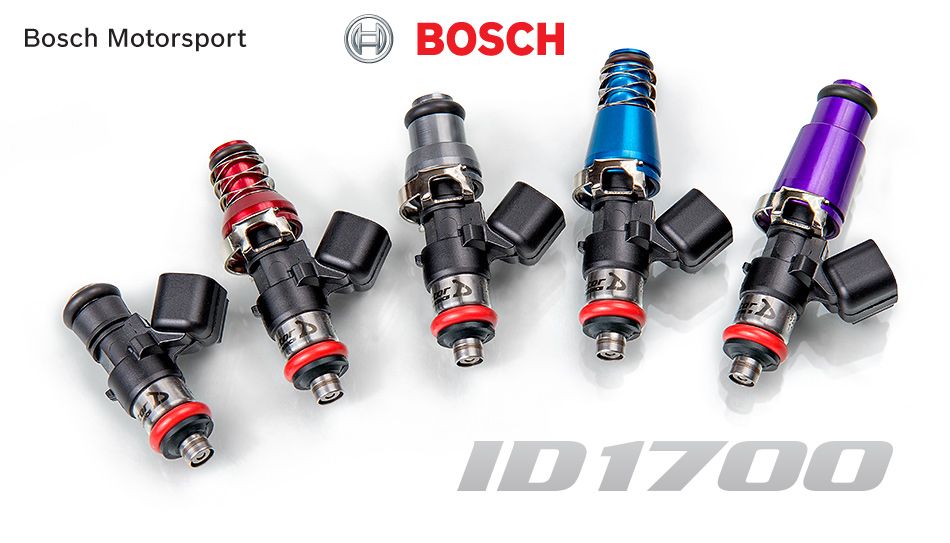 Injector Dynamics Fuel injectors
: Technology is more than a buzzword. It is the means to increase power, to improve drive-ability, to simplify the tuning process.
It is technology that has taken us from carbureted gas guzzlers to 1000 hp daily drivers. It is technology that allows the auto manufacturers to offer 11 second street cars. And it is technology that will allow the motorsport community to keep up with rapid advancements made by the automobile manufacturers.
At Injector Dynamics, we are proud of our position as the technological leader, and proud of our ability to function at the same high level as the auto manufacturers.
To date, we are the only motorsport injector supplier providing emissions compliant high flow injectors to OE manufacturers. Namely, the twin turbo Noble M600 which meets strict European emissions specifications.
We are also the only supplier to have earned the title of authorized technical partner with the largest automotive supplier in the world.
Our partnership with Bosch Motorsport serves as testament to our vast technical capabilities, and commitment to high quality, as very few have earned this distinction. This partnership provides access to the highest level of automotive technology, and it is this technology that we offer to the motorsport community through products like the ID1300, which has set the standard for high flow fuel injectors.
Our goal has been, and always will be to improve the quality of the market through the application of current, and emerging technology. Just as the days of rebulding a carburetor in the back yard have passed, the days of testing injectors with diagnostic equipment from the 80's has also passed.
Accurate injector characterization requires accurate test equipment, and we pride ourselves on having the best in the industry.
A few of the hi-lites include:
All flow test equipment is designed and built in house
NIST traceable calibration via in house flow proover
Meets or exceeds all standards defined by SAE J1832
Pressure Capability 1 bar – 10 bar
Temperature Capability 0C – 80C
Voltage Capability 6V – 24V
Compatibility with all automotive fuels
Sizes available
:
AEM Electronics Fuel pumps
: AEM's 320lph E85-Compatible High Flow In-Tank Fuel Pumps feature robust internal construction that is designed to withstand the low lubricity characteristics of ethanol and methanol fuels, and are tested to work with ethanol fuels up to E100, methanol fuels up to M100 and all types of gasoline. This physical size of this fuel pump makes it a great replacement for the 2000-'09 Honda S2000, 2000-'05 Honda Civic, 1992-'01 Acura Integra, 2002-'06 Acura RSX, 2002-'15 Mitsubishi Evo, 2002-'07 Subaru WRX, 2013-'15 Subaru BRZ, 2013-'15 Scion FRS and many other popular enthusiast applications (NOTE: The plug wiring may need to be updated for some applications). Its compact, short body design (65mm length) with mounting hooks also makes it ideal in universal applications that have fuel tanks with tight tolerances.
The AEM 320lph E85-Compatible High Flow In-Tank Fuel Pump is designed for in-tank mounting on high performance naturally aspirated and forced induction vehicles. It features a compact 39mm diameter that fits most applications and an offset inlet design that eases installation.
The 320lph E85-Compatible High Flow In-Tank fuel pump includes a wiring harness, pre filter and O-rings. Every AEM 320lph E85-Compatible Fuel Pump is tested to flow 320 lph at 43 PSI before it is packaged for sale.
Tested and compatible with ethanol fuels up to E100, methanol fuels up to M100 and all types of gasoline
Designed for high output naturally aspirated and forced induction EFI vehicles
In tank design
Each pump is tested to flow 320 lph @ 43 PSI
Compact body (39mm diameter x 65mm length)
Includes Fuel Pump, installation instructions, wiring harness, pre filter and O-rings (use of stock isolator sleeve is recommended)
AMS Performace
: The goal of AMS is to provide the highest quality, best performing products available. By utilizing research and development and rigorous testing programs AMS will never compromise the quality or performance of our products.
In addition AMS will only provide the finest customer service offering only advice and parts that are in the best interest of the customer.
AMS was built on a foundation of integrity. This is who we are. This is what you can count on.
The AMS EVO X Fuel Rail provides increased fuel flow which is necessary at higher boost levels. This CNC'd aluminum rail comes anodized in Red or Black and includes our signature AMS logo. With a -6AN (7.5 mm) diameter inlet and outlet it dwarfs the stock rail by over 25% in flow area. This is true bolt on part that will install with your factory fuel lines, fuel pressure regulator and will work with all factory style fuel injectors.
Included in our kit is a -6AN braided fuel feed line that increases fuel flow by 25%. Our line also makes your car safer by eliminating the hard factory fuel feed line that can crack over time from engine vibration.
Always Evolving – Fuel Pressure Damper Option:
Some EVO X owners love to push the boundaries with the mighty 4B11. For those running more than the average bolt ons and specifically an aftermarket fuel pressure regulator like found here
http://www.amsperformance.com/cart/a...lator-kit.html
we have added a new optional feature to further improve driveability in low RPM scenarios. This new fuel damper integrated into our fuel rail kit will ensure even better fuel delivery under low load and low rpm driving.
Precision CNC machined from 6061 billet aluminum
-6AN (7.5mm) fuel inlet increases fuel flow by 25%
Thick flanges and stantions for durability and reliability
Direct bolt-on, no modifications needed
AMS Logo CNC'd into the face of the rail
Retains factory fuel pressure regulator
Works with all factory style fuel injectors
Available in anodized Red or Silver (standard rail)
Available in anodized Red or Black (fuel dampered rail)
The AMS EVO X Fuel Pressure Regulator Kit is designed for anyone running an upgraded fuel pump and or fuel injectors. Whether you are running too rich and need to back off the fuel pressure or if you are running too lean on your current injectors and need to raise base fuel pressure, this is the system for you! A vibration resistant, liquid filled fuel pressure gauge is included allowing you to monitor your fuel pressure. Requires no cutting or modifications to your vehicle for easy installation and/or removal.
Fuel Lab 1:1 Black fuel pressure regulator
Liquid-filled fuel pressure gauge
Return line to mate up to the factory steel line
Line and fittings to bolt up to any stock or stock replacement fuel rail.
Mounting plate
All necessary hardware
Detailed installation instructions available online
Thanks,
Alex Goodwin
AlexG@motionlabtuning.com
Motion Lab Tuning Webstore
Motion Lab Facebook