I had the opportunity to configure and calibrate a new AEM wideband failsafe unit on a customer car recently, and I'd like to share some details on the setup.
AEM failsafe configuration
, just to give you an idea
Alarm delay: 150 ms
Alarm resets after: 3 seconds
Alarm action: output ground ON
Inputs: manifold pressure, wideband AFR - no engine RPM necessary
The approximate AFR ceiling above 15 psi is about 12.8 gasoline AFR on E85 fuel, which gives you a good buffer for lower gears. Actual AFR on this car is 12.0-11.6 gasoline ratio. I tapered the AFR ceiling down a bit above 29 PSI just in case there is an overboost condition.
ECU wiring:
Pin 115 of the ECU, as accessed through the driver's side door jamb run - I believe the wire is white with a black stripe according to the FSM. This is the fuel temperature sensor. With the correct configuration in EcuFlash/COBB ATR/ATP - Ground/Resister ADC, 4 - the ECU will mock out this signal for emissions purposes.
The pin 115 wire was disconnected on the sensor side (going to the fuel sender unit, between junction 3 and 6 in the wiring diagram below) and the ground output from the AEM unit (blue wire) was spliced in with a 270 ohm 1/2 watt resistor inline.
ECU configuration:
Alternate Map Master - 4 (Resistor/Ground ADC)
Alternate Map Load Threshold - 360 - this ceiling had to be set even though it should not apply to ADC map switching
Alternate Map Time to Activate - 10 ms - for maximum responsiveness
Alternate Map ADC Threshold - the default 2.0 V
In a nutshell, this configuration will allow the AEM unit to ground the pin 115 of the ECU during a failsafe alarm condition, as determined through the AEM unit calibration. With the given ECU configuration, this will cause the ECU to switch from map set 0 (normal map) to map set 1 (alt. map) within 10 ms. The AEM unit will wait 150 ms to confirm an alarm state (to prevent triggering during downshift, upshift, off throttle type scenarios), so a total delay after a dangerously lean condition is detected of 160 ms. This is as quick as a blink of an eye - literally.
After configuring all of the guts of the system, I did a bit of driving in different gears on the dyno while manually triggering the AEM Failsafe alarm via their software to verify that the intercooler sprayer light began to flash, signifying the map had been switched. Once verified, I did a full throttle dyno pull where I manually triggered the AEM Failsafe alarm as though a lean condition had occurred mid-pull. This is what this looks like on a dyno power plot: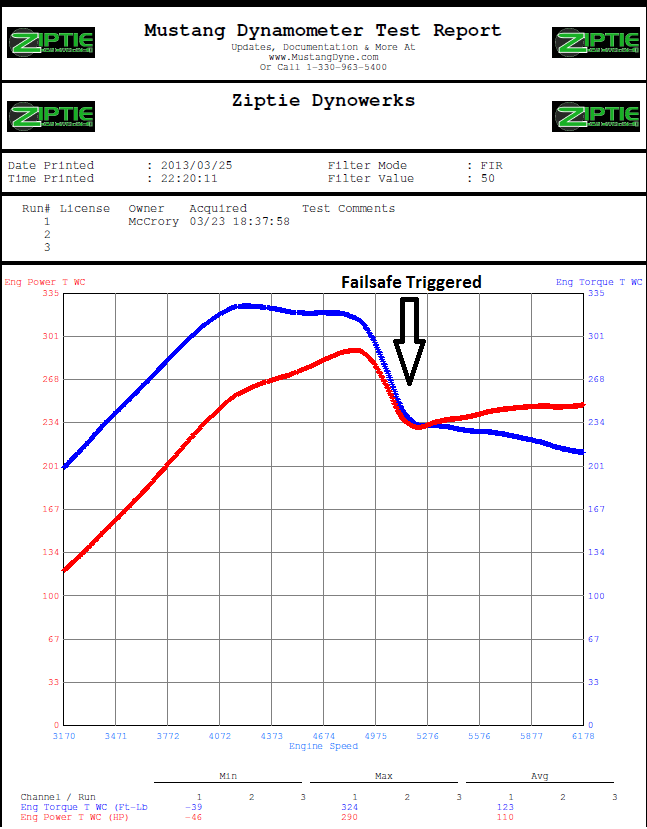 As you can see, power is instantly reduced as the ECU switches maps to apply lower ignition advance, wastegate pressure (18 PSI spring) only, and a 15% richer mixture.
I hope this article gives some of the self-tuners out there some guidance on how to wire up this new product from AEM, as well as giving everybody a good idea as to how this thing can benefit any Evo X owner!