I originally started to explore tuning the MAP tables in hopes of cleaning up my AFR's. The 3x's MAP tables can be found in Fuel, as they provide the basis for establishing Load. This Load is then applied to the all the Fuel tables (with RPM as the other cross reference point) to establish your AFR's. Many, if not most, people take the general approach of using the fuel maps as +/- to establish desired AFR for WOT. What if you could set an AFR value in your Fuel table, and it directly corresponds to an actual value rather than a +/- value? What if you could get rid of the lurching and bucking at slow speeds? What if you could narrow the apparent disconnect in Load between MAFcalc and MAPcalc? This is especially important for SST equipped vehicles, in that the SST seems to use anticipated Load for…..well everything! I wanted to put this out there, how I went about getting to this point, to let others who might be inclined try and see if they can replicate the same results I've achieved. This is something that can't be done in a generic base-map sort of way, it's for self-tuning. It'd definitely time consuming (not something that can be done in a 2-3 hour dyno session), but the resulting smooth driveability and easy of future tuning are worth it to me. If you are the type who finds it necessary to smooth EVER table in your ROM, this is for you, lol!
Step One:
Establish your MIVEC and Boost Maps
The load as registered by our cars is directly related to the volume of airflow, i.e. Volumetric Efficiency. Boost and MIVEC play the largest roles in this, due to the dramatic affect these can have on cylinder volume. For example, based on my Boost and MIVEC curves there is a dramatic increase in airflow starting at 2500rpm, and carries to 6000rpm;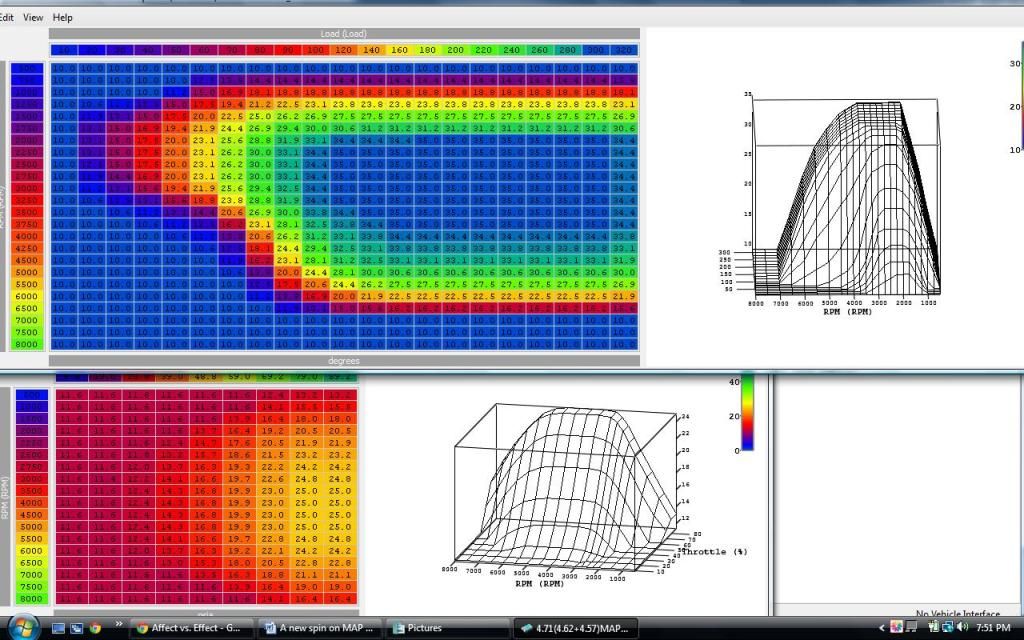 Step Two:
Log RPM/Load/psi
After determining your airflow, you need to log. I use about 100,000 lines of logs over several different days and many different driving styles; it may sound like a lot, but it's only a couple hours worth of logs. The goal is to hit as many RPM/psi combinations as possible, so you can get a good idea of what Load is actually doing. Take all this data, drop it into excel and create a pivot table; set it up exactly as the MAP tables, and change Load to 'average'. To make my life simple I group the RPM's by increments of 250 and psi by 0.5's;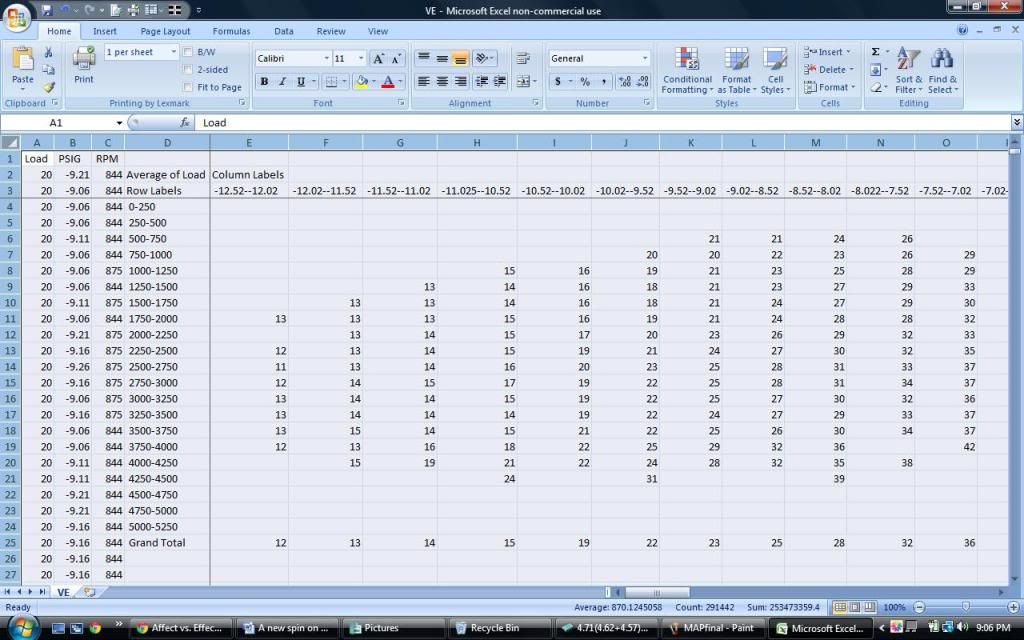 Step Three:
Scale your MAF and Calibration Table
First, you will need to set the Calibration Fuel Map to 100, otherwise the ECU will spit out a % of the Fuel map. Second you need make sure your MAF is scaled properly. Swiftus has an awesome tool to help scale you're MAF, check out his thread for details. The only other thing I do after using his tool, is take the two columns of data and dropping them into excel. Then I create a scatter plot and tweak the values slightly just so that the graph has the cleanest curve I can make (yes, I'm totally OCD);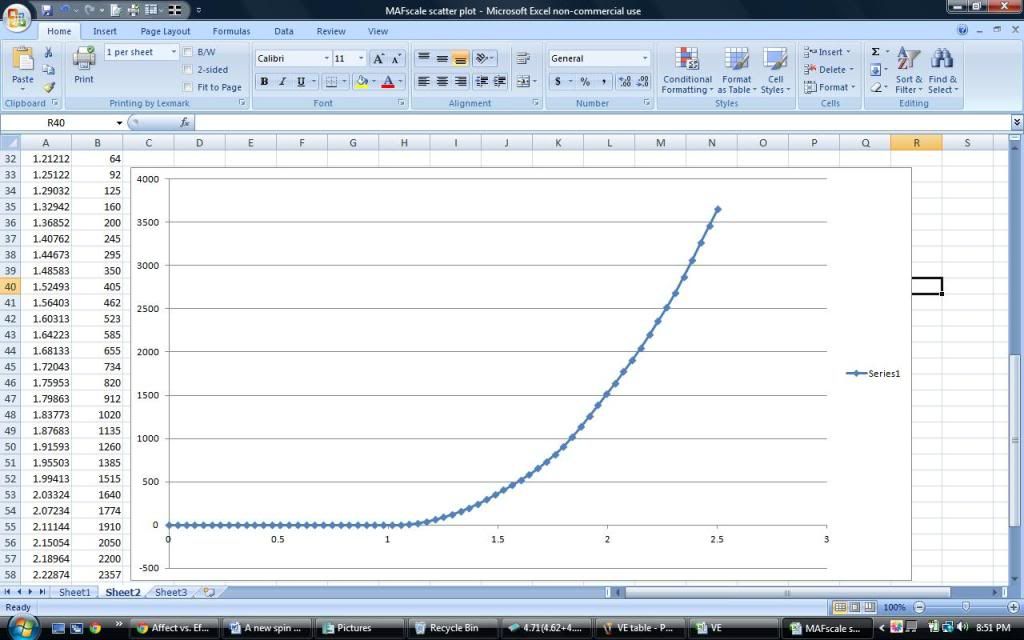 Step Four:
Create the MAP Table
This is where things get interesting, and where I had the most difficulty. It's not possible to hit all the cell combinations by DD and some spirited driving. This is where knowing your MIVEC/Boost curve comes in real handy. The stock MAP tables look like this, EVO and RA respectively;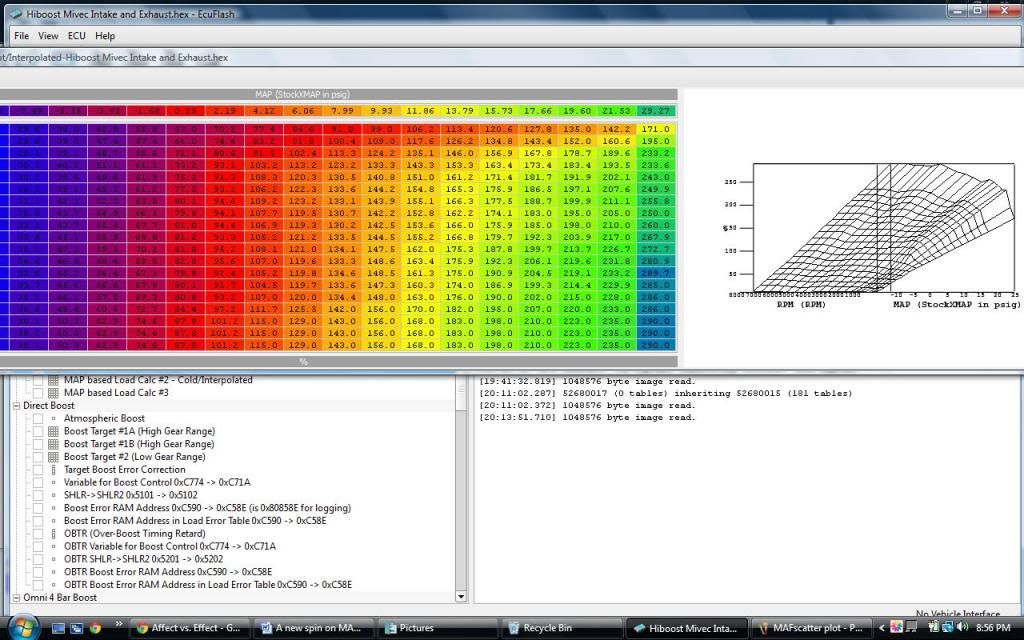 Many take the first step of smoothing, and get something along the lines of the top graph. But based on the logs, and a continuation of the how the Load was being plotted, I came up with the bottom graph. Neither one is correct, and if used will have some 'odd' side effects (letting off the throttle, idle, WOT shifting, etc);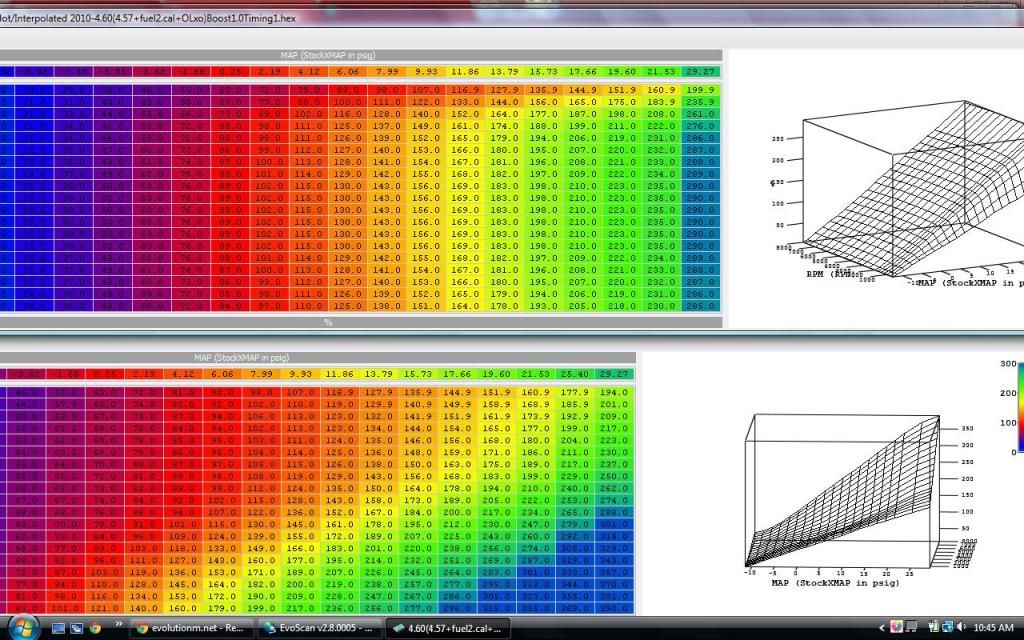 I experimented with about a dozen variations, but kept getting unintended side effects. Until I finally figured it out;
Load will rise at one rate while in vacuum, and a different rate in positive pressure.
The final graph that seems to have solved all my problems looks like this;
There are a couple of key features that you need to adhere to: 1) below 1000rpm needs to drop off substantially as shown; 2) the angle of the Load increase needs to change when crossing into positive pressure; and 3) keep idle as close to stock as is reasonable. This allows me to have actual AFR within 0.3 of whatever value I drop in my Fuel Map (close enough, lol):