Discussion Starter
·
#1
·
AST Suspension - USA Announces the New AST 4150 Series Damper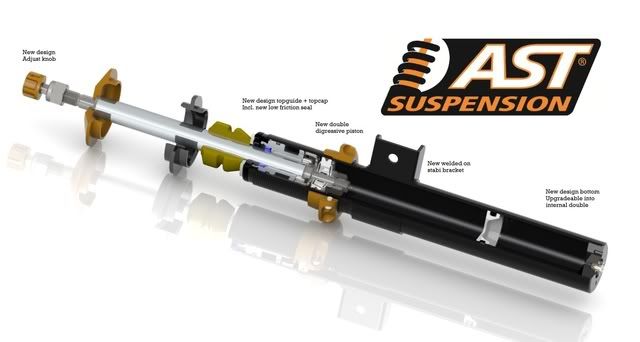 AST Suspension
- USA is proud to announce the new AST 4150 Series Damper. The new design builds on the success with the
AST 4100 series damper and the recent wins in GRAND-AM Continental Tire Sports Car Challenge, including new technology
developed specifically for GRAND-AM racing teams.
DDP Technology Piston
Our latest digressive piston developed for GRAND-AM gives drivers and race engineers the best of both worlds. Drivers love the low speed damping response and body control, while race engineers love the "blow off" at high shaft velocities. When the rebound adjustment is soft, the damper curve looks similar to an OEM street shock profile. When the rebound adjustment is hard, the damper curve looks like a race shock!
This "Jekyll and Hyde" personality is exactly what AST 4000 Series customers want: soft street ride and race car track
performance in ONE shock - all with the turn of a knob!
Lower Drag Seals
High performance seals are a challenge for any damper. They must balance friction and sealing ability while not impacting shock performance and not leaking; a difficult balancing act! While the seal was originally developed for GRAND-AM road racing, AST is taking our knowledge from the track to the street again. Newly redesigned seals decrease hysteresis in the damper and decrease seal drag over 50%.
Discontinuing Steel Shocks
In 2012, most AST 4150s will come with aluminum shock bodies. Strut bodies will continue to be built from steel, but all shocks
will switch to aircraft grade aluminum. Economies of scale have allowed us to switch to aluminum without a large increase in cost of manufacture. For some models, this represents a 50% reduction in the weight of the damper (unsprung weight).
Structural Improvements
Several new designs proven in GRAND-AM racing will be added to various products on an "as needed" basis. All strut models will receive a new two piece top guide assembly that separates the dust seal assembly from the oil seal/bearing assembly. This two piece design is stronger in compression loading (bottoming out) and side loading (in the turn). Some models will receive weld-on stabilizer brackets which take the guesswork out of setting the stabilizer height and torque setting of the clamping ring.
Upgradeability
4150s will be upgradeable to 4250s! Using a modular build system, customers can send their shocks to AST at a later date and upgrade from a 1 Way shock to a 2 Way internal reservoir or remote reservoir system. Some models may only upgrade to remote reservoirs. An upgrade matrix will be published in early 2012.
Motion Lab Tuning has everything you need from AST and Vorshlag motorsports. Available in endless combinations with Swift or Hyperco springs, we can get you a package together for your street car all the way to a full fledged race ready setup! PM me what your looking for and ill get pricing and current availability.
Thanks,
Alex Goodwin
[email protected]