Discussion Starter
·
#1
·
Sooo.... this isn't an Evo obviously, but since I unfortunately do not own one of those yet I thought I'd post some pics of some of the other builds I'm working on right now.
First off, this isn't my car, it's my older brother's. He works as a mechanic in Ocean City and literally spends all of his money on his cars. He owns this 240, an '84 El Camino, a '98 Honda civic (which he despises), an '82 Camaro, and a '96 Bandit 600. Problem is he can never get them all to run at the same time haha.
Any how, enough about him. He bought this about 2 years ago from a kid joining the military looking to get rid of it. When he bought it, it was completely apart. Just a shell, a KA, an SR, and an auto and manual tranny. He kept the manual trans, bought a blacktop SR20 (his redtop apparently wasn't good enough haha), Greddy FMIC, stock turbo, 6 puck racing clutch, and a couple of other goodies. Got the whole thing put back together in about a year. Ended up looking a little something like this.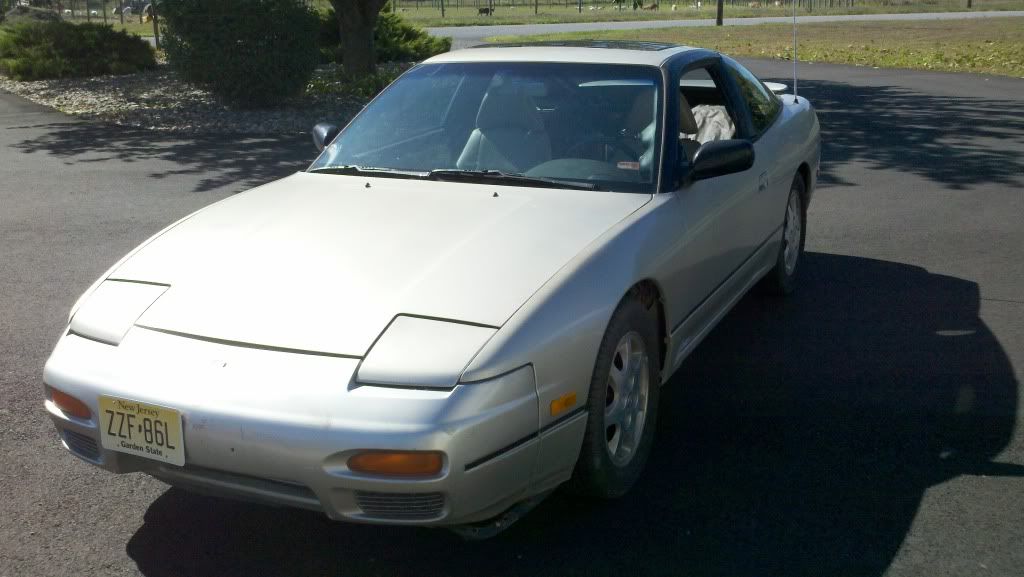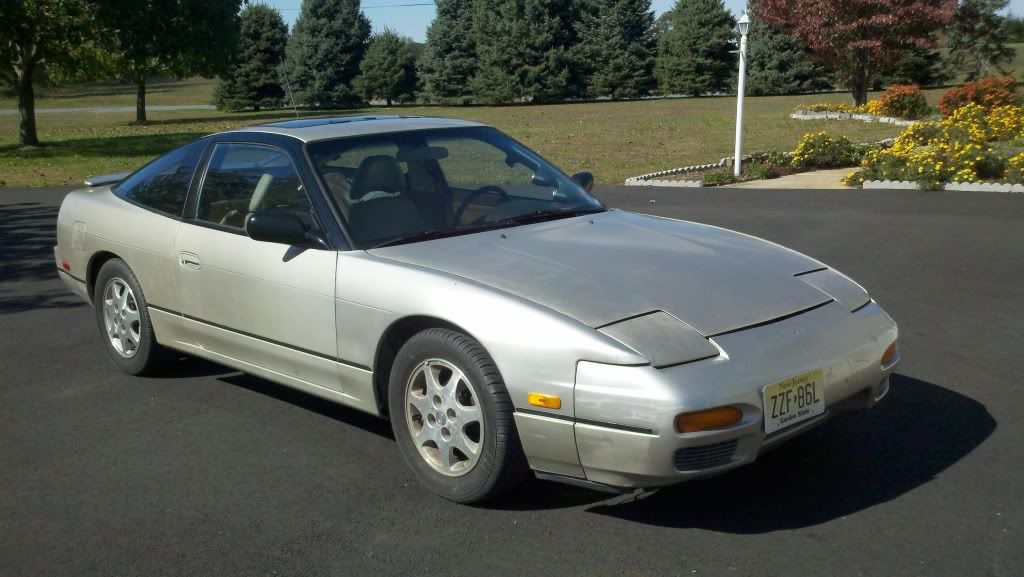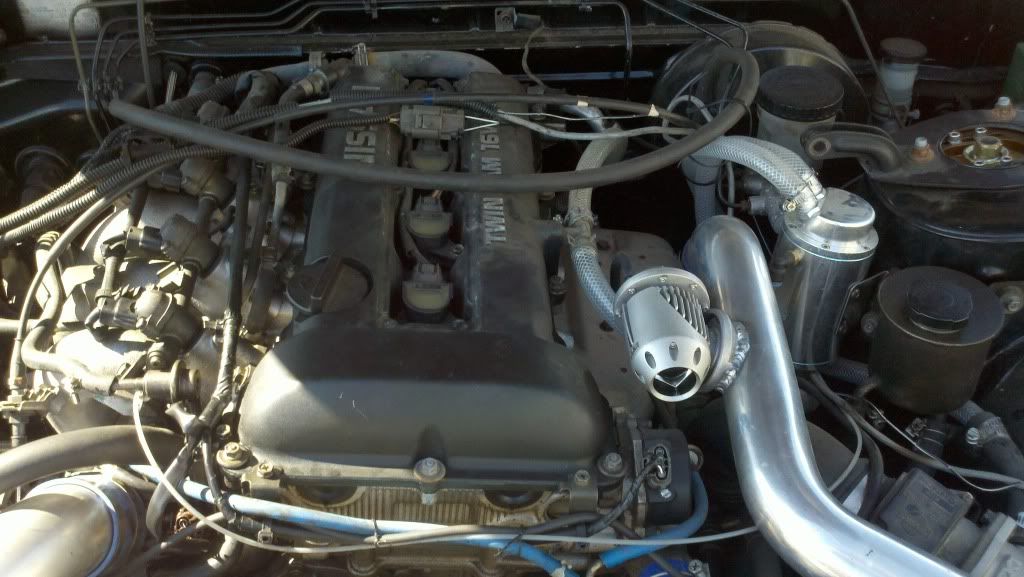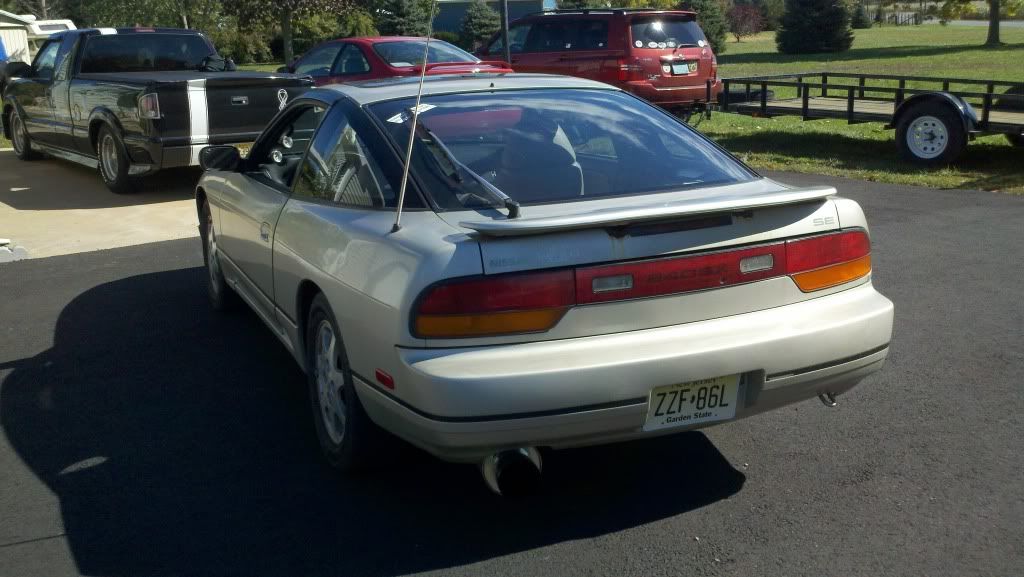 not much to look at, but it was a complete sleeper. goddamn was that car fast. It had absolutely no weight at all, and flew everywhere. Chirped tires in the middle of summer all the way up to 4th.
Then he finally got it registered and insured and tagged. And then I happened...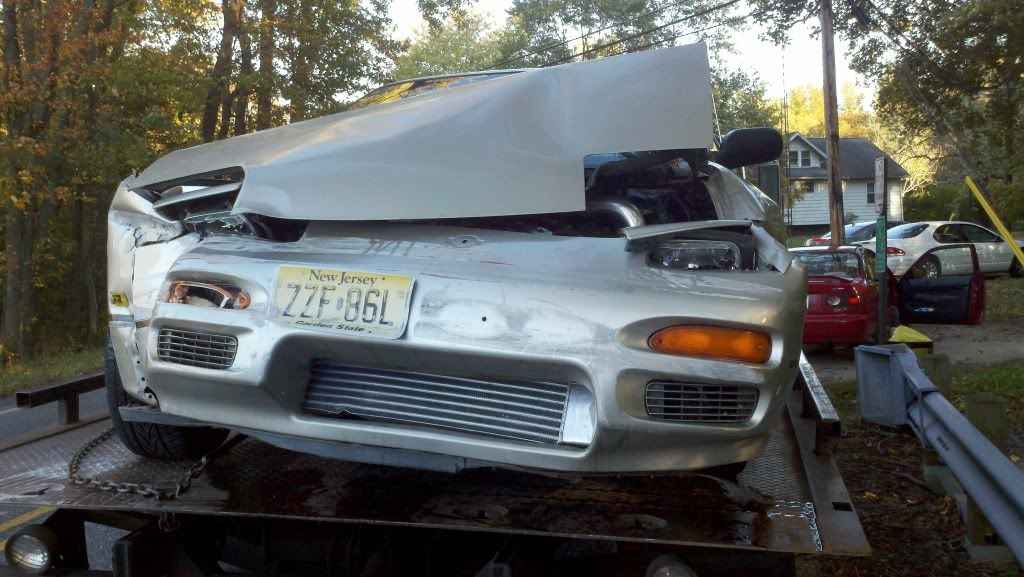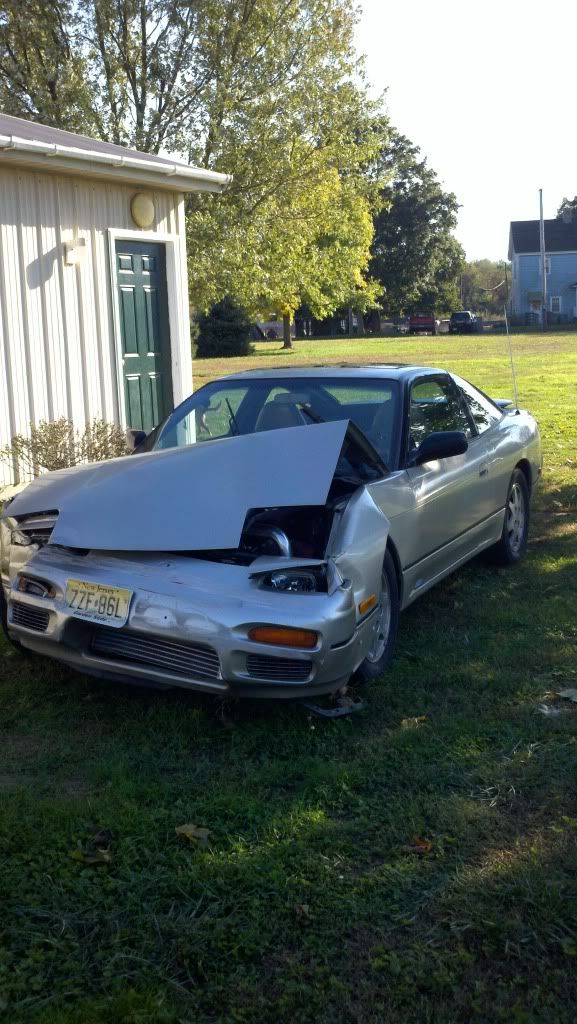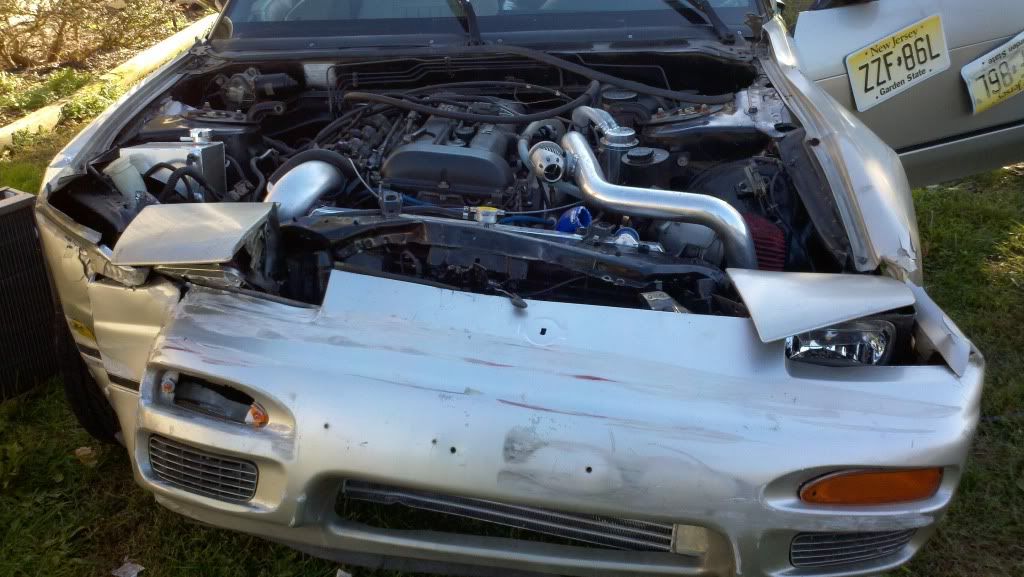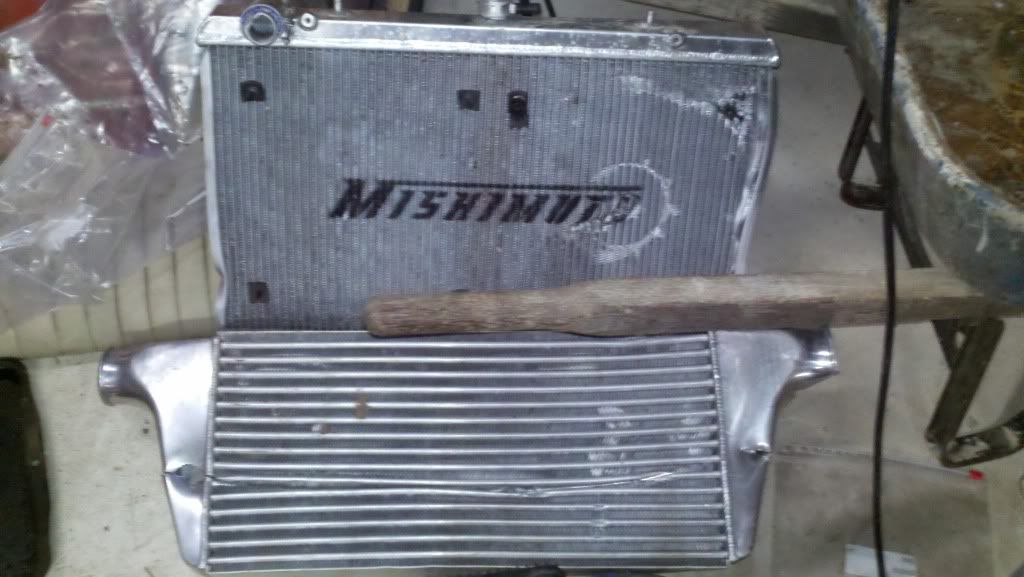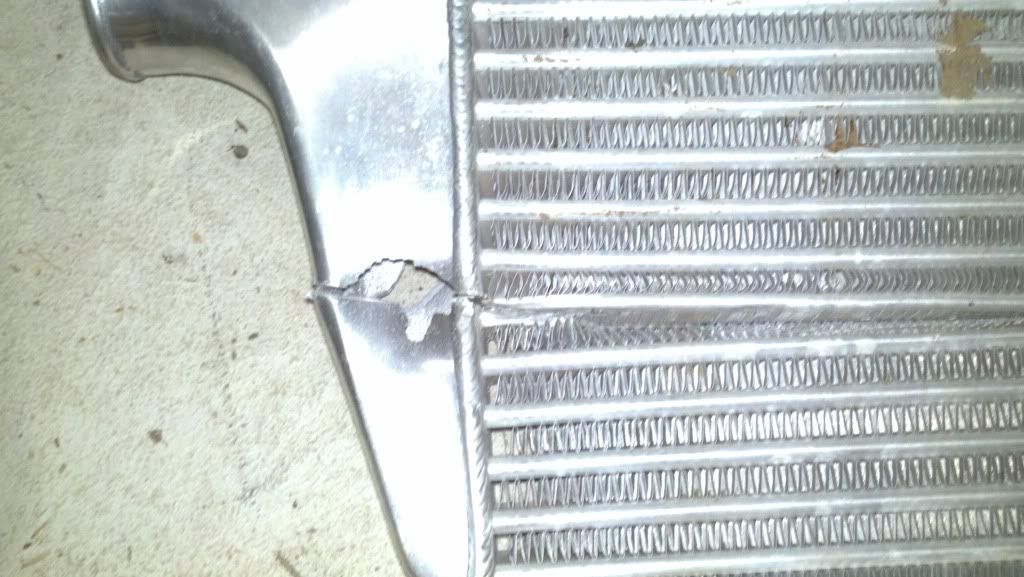 The day it was tagged I drove it to my gf's house and back. 10 mins round trip. On the way back I was rear ended by a corvette going around a corner onto a bridge. Drifted for a bit and thought I would save it, but right at the bridge is a bump from where the road surface changes. It caught and spun back around, I missed an explorer, hit the guard rail and spun, hit it again on the rear of the car, and spun back into my lane just before an RV drove through me.
The corvette drove off right after it happened. The lady in the explorer took off after him. Then the cops showed up... He said that there was no evidence of another car hitting me and that I was lying. When the lady in the ex came back and backed me up he then told me that the guy in the corvette was my friend and that I had let him go and was taking the fall. Then he proceeded to say that since there was no paint transfer from his car, that I had been going too fast and it was all my fault. Then my brother showed up. He was actually a lot nicer about it than I thought he'd be all things considered. I talked to him, the lady in the ambulance, the cop some more, told the reporter to fck off, and then went to call my uncle for a tow. Cop said I couldn't have him tow me. I had to use their tow service because it was on a bridge and we needed traffic moving again asap. My uncle lives 15mins away, his tow truck took 30. It also cost me a pretty penny... When it was towed away he handed me my reckless driving ticket and told me to have a good day and drive safer next time....
Went to court, long story short, the lady in the explorer came to my rescue. Since the cops couldn't prove I was lying and that there wasn't a corvette there, and the only witness that stayed sided with me the charges were dropped. Didn't get anything out of insurance, so we started tearing apart the car again, and bought him a new shell.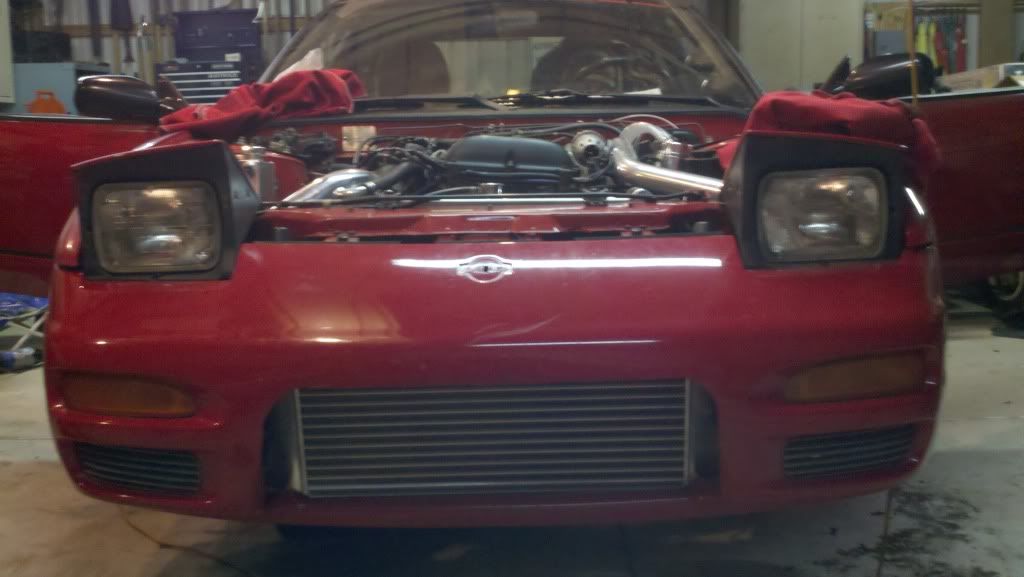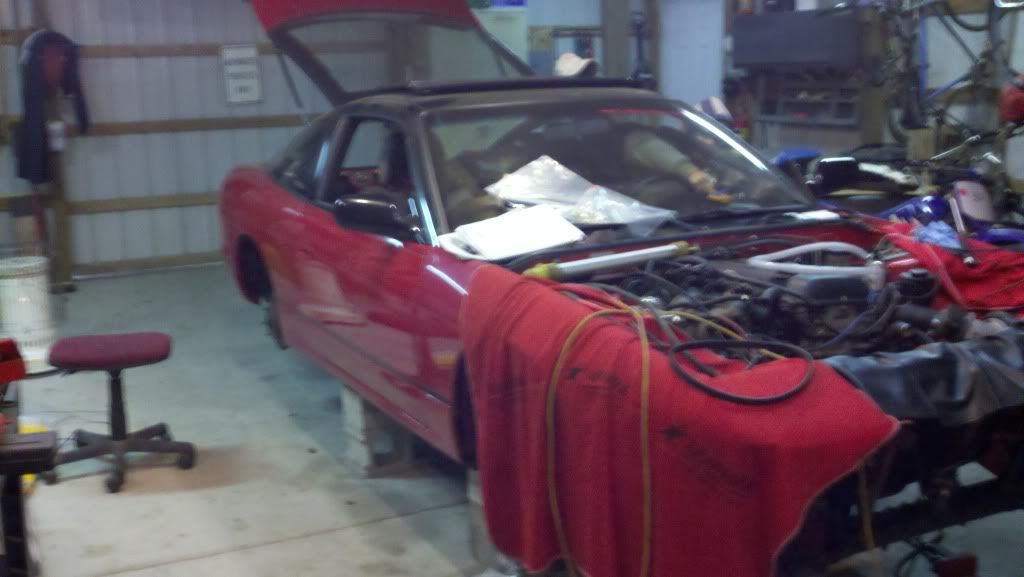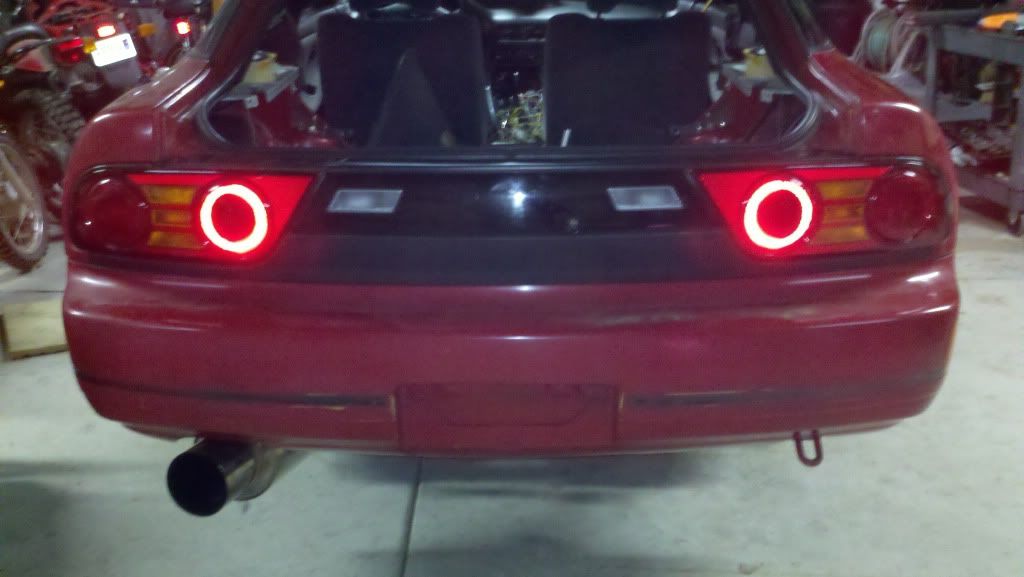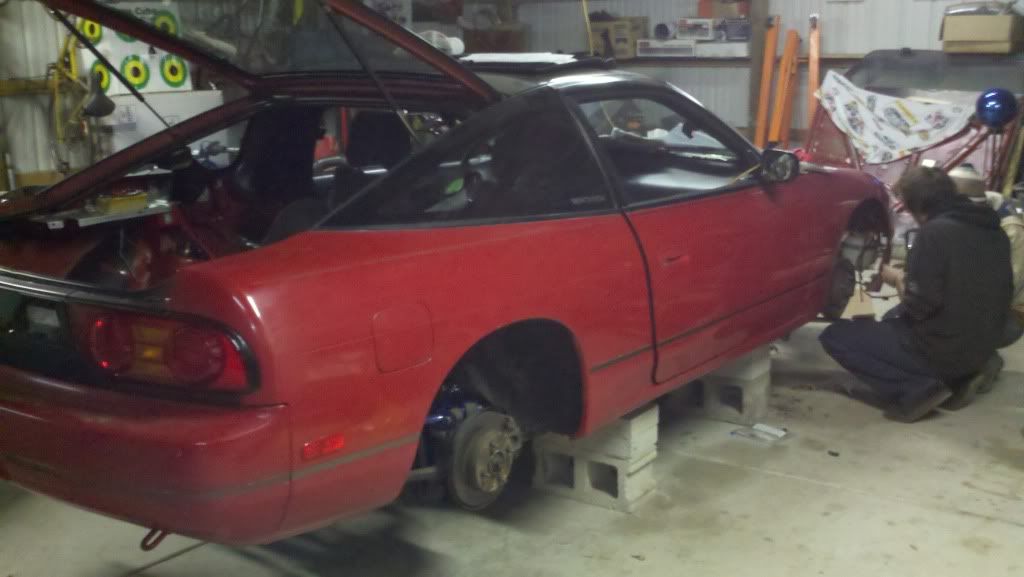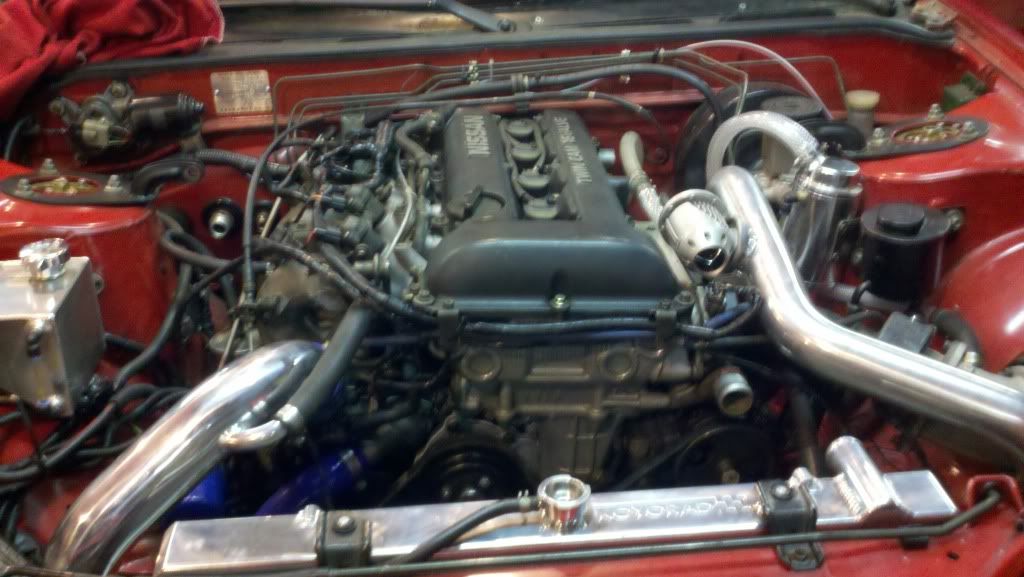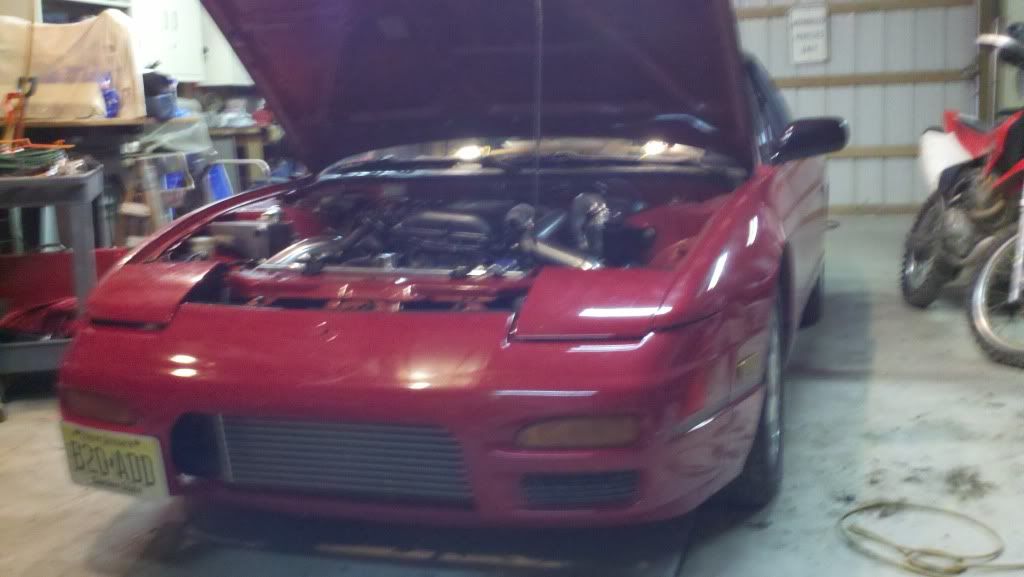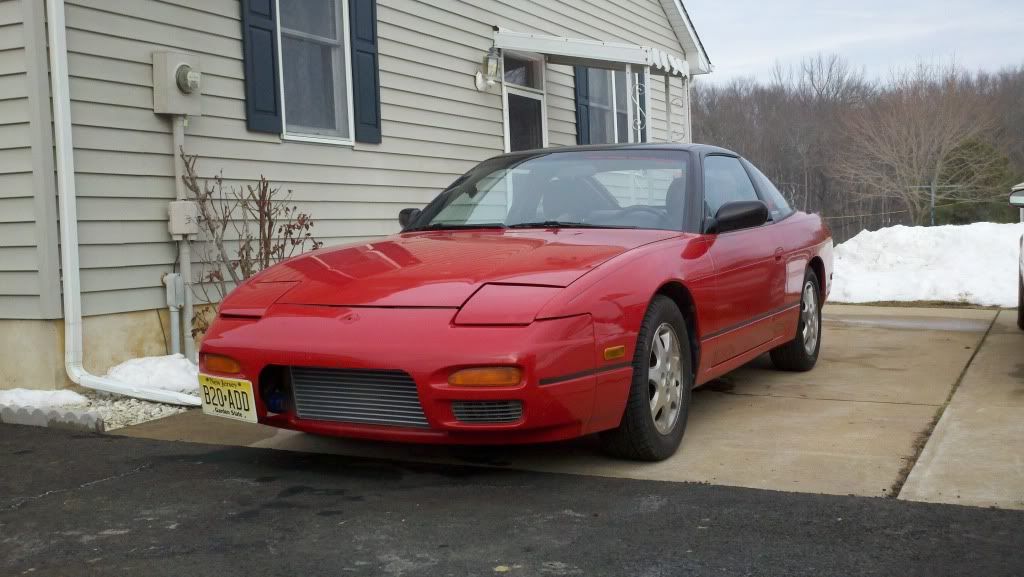 He bought a few different parts for this one since I trashed his radiator and intercooler. Went with a blitz one this time, (wouldn't recommend them), but other than than we just yanked everything from the old one and put it into the new one. Worked for a while. Unfortunately it developed a bit of a piston knock. He thinks it was from the accident, I wouldn't doubt it but would like to not be held responsible yet again... Anyway, he didn't check it out immediately and drove it around for a bit without any problems, and then it 'sploded. And yes that's his face on the other side of the block in the one pic.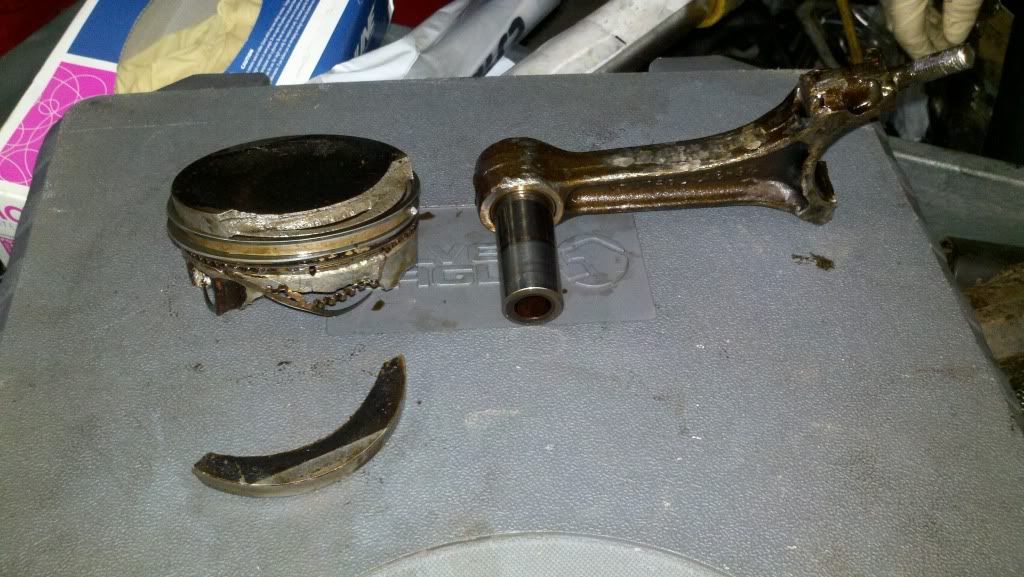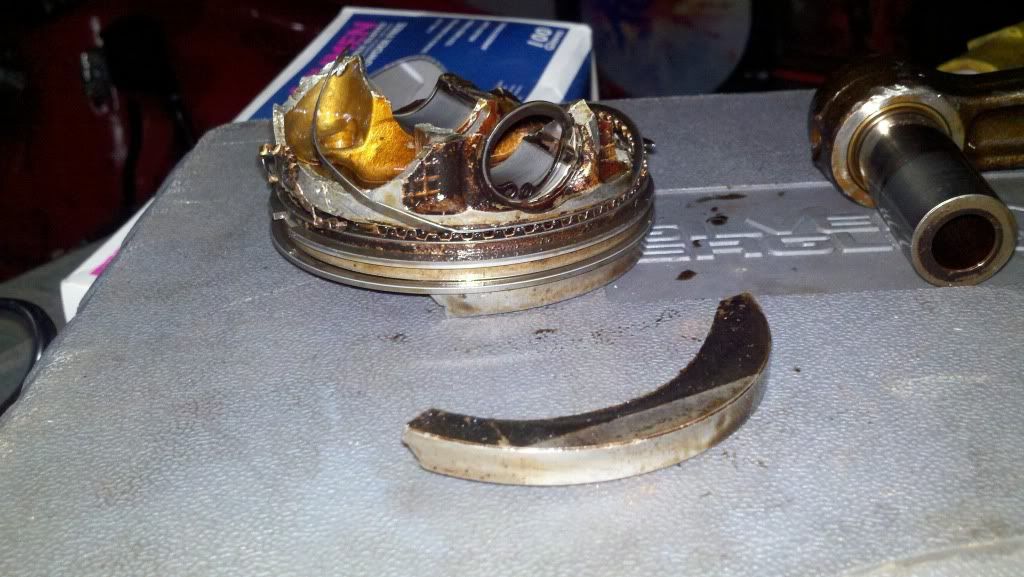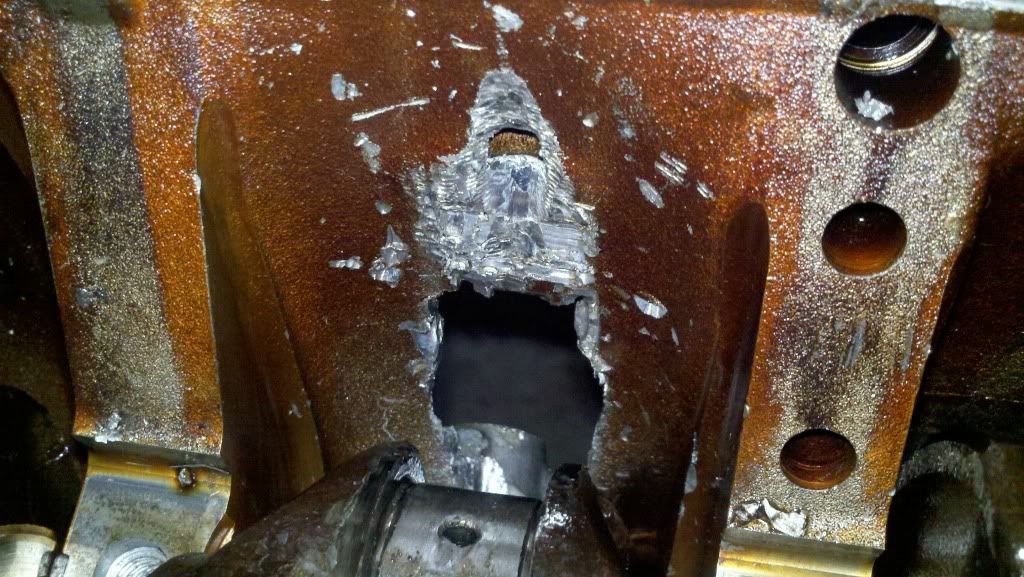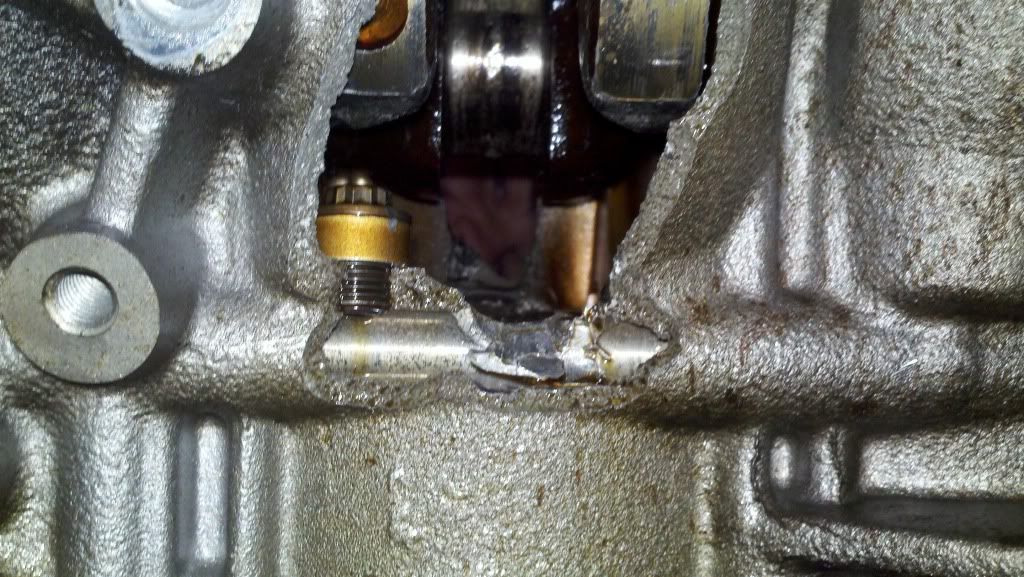 So now he's building up the redtop he kept. Properly. He wants a lot of power out of this thing, just bought a new turbo, greddy front mount, pistons and rods. When he gets the money he's going to find a beefier diff, and wider rims, although he says he wants to find an adapter and use my z06's haha.
So there's my life story. sorta. Anyway more pics as we put it back together. We just got a huge new compressor so we're going to paint it as well. I'll try to get some shots of the newer goodies from him tomorrow if I can. Til then, I hope you all enjoyed wasting a good portion of your time on this