*update* center diff pins swap!!!!
alright this are the steps I took to swap out my pins. Im not perfect and yes there will be grammar errors and other things but as of right now since this is the only guide on this site, this is the only one u got! so please bare with me as I am just giving you people reading this some help! ill try to give as much detail as i can...if u have any questions wile doing this pm i can try and help. if u live in socal near me i can go check it out.
P.s i sugest u take ur own picture to remember how everything goes! Also i suggest putting everything in order so u can easyly start in reverse when putting everything back together!
To uninstall and re-install the tranny follow the How To on the "how to change clutch"
1....Remove the plastic vent tube with the green arrow and then remove the bolt circled in green (picture1)
Now from were u removed the tube u can insert a screwdriver and with a hammer tap out the long bolt that holds the fork in place. the red shows how it will come out. (picture 2 shows the hole from the top) On the opposite side there is a small cap that will pop out to let out the bolt.
remember how the springs on the side of the fork go!
Then remove the screws that hold the fork intacked and pull it out. (circled in black)
The final step is to remove the two top bolts that hold the cover from the inside. (circled in blue)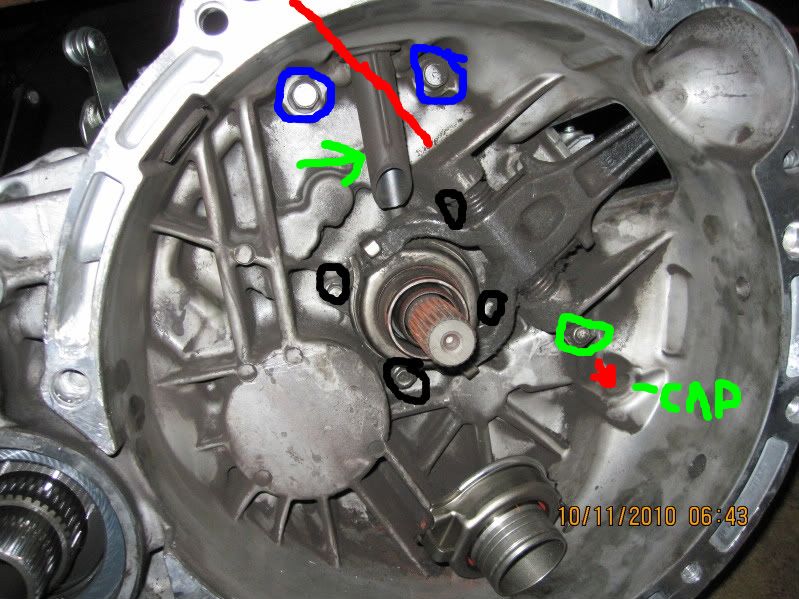 2.Now ur gonna remove the whole gear selector. First remove the bolts (in black) that hold it in place, 5 i believe. Use a flat head to loosen it up cause its sealed with silicon.(picture 1)
When u budge it free, pull it out. If it does now come out its because the gear selector is not alinged ( PICTURE 2 ALIGNED, PICTURE 3 NOT ALIGNED) Picture 4 shows were the middle flange is suppose to slide from.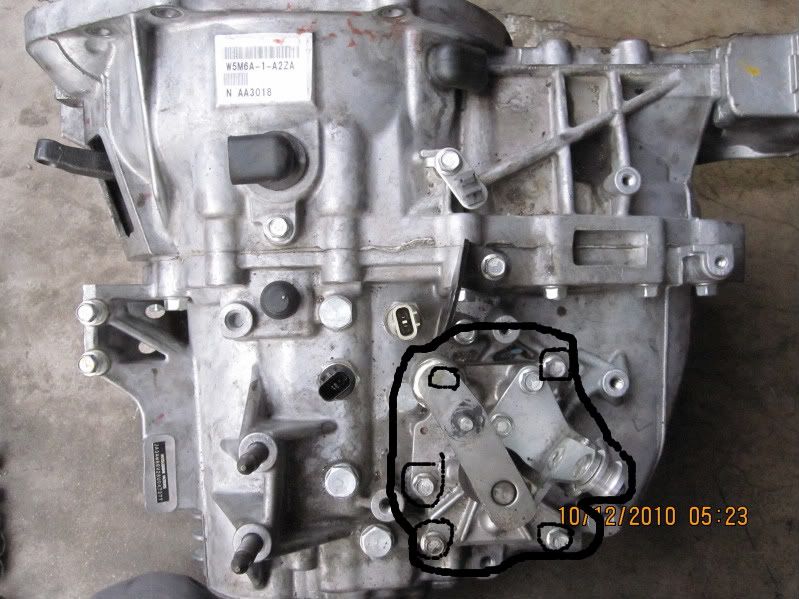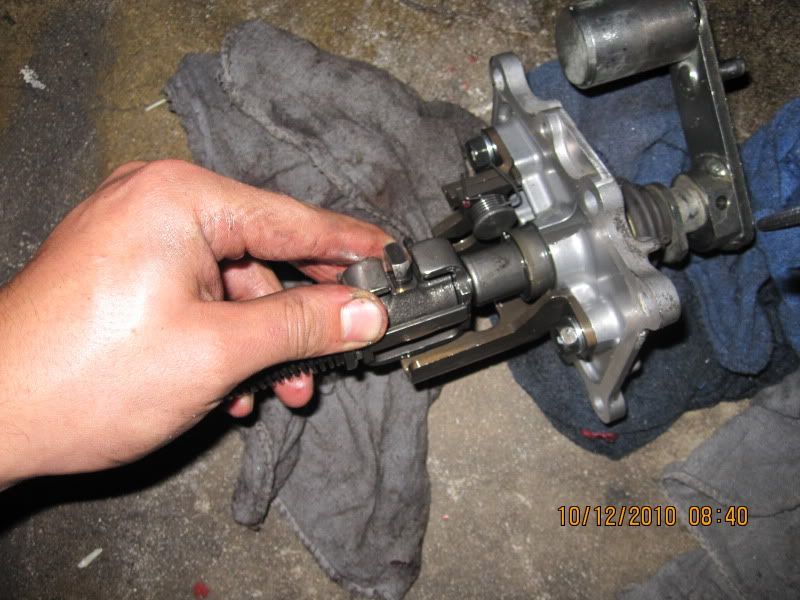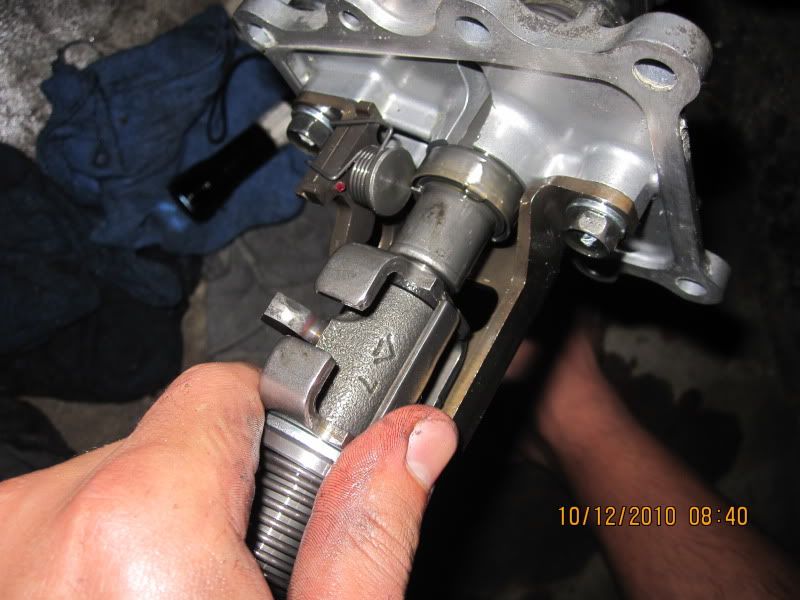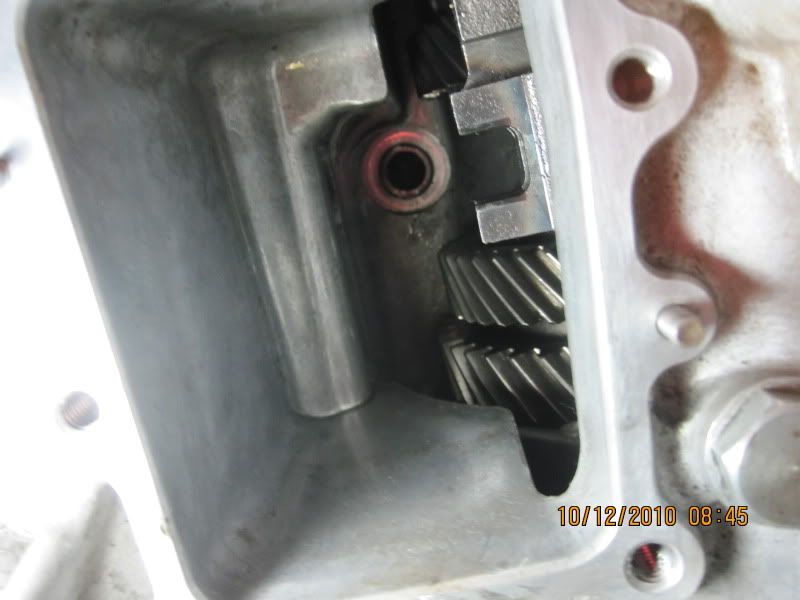 4.Now remove the lift bracket (circled in red, held by two bolts)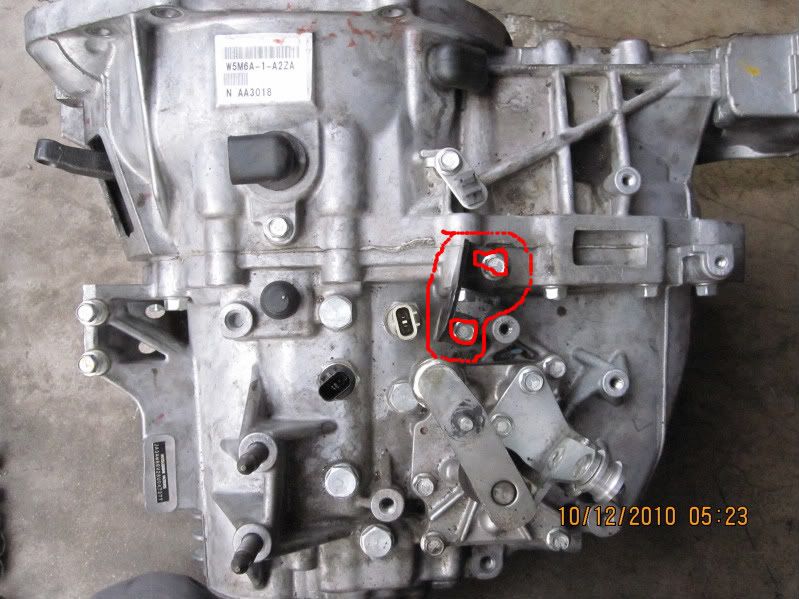 5. Now ur gonna turn the trann face down (place the ends on wood so the diff is now hitting the floor) Ur gonna remove the 15 bolts around the cover of the case. (I didnt take a picture of it face down but here are some bolts, circled in black) Picture 1
Right
next
to the oil fill plug there is one more bolt u have to remove. picture 2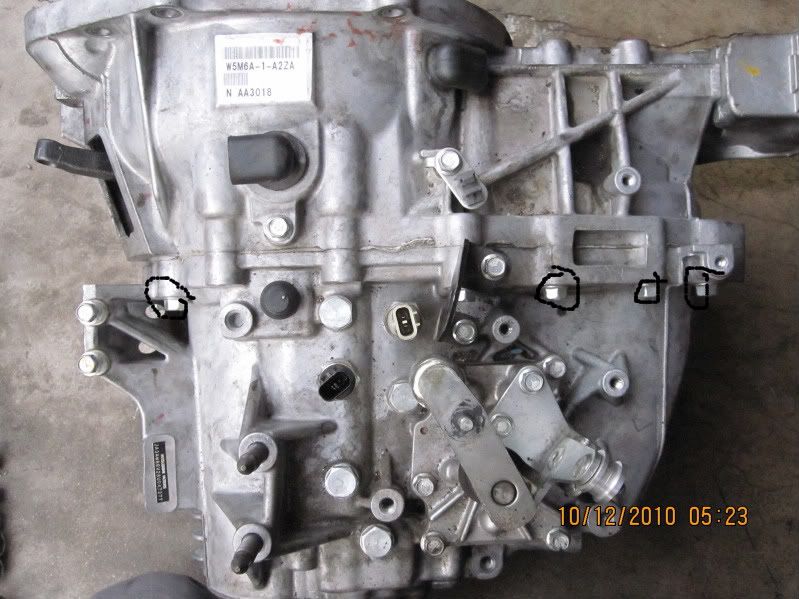 6 Alright now us a flat head to lossen up the cover. make sure u go all around the cover. When done lift it up! be careful there are 3 bearing covers and 3 metal O rings! They might fall out... 2 are the same size and one is bigger.