eBay listing with more pics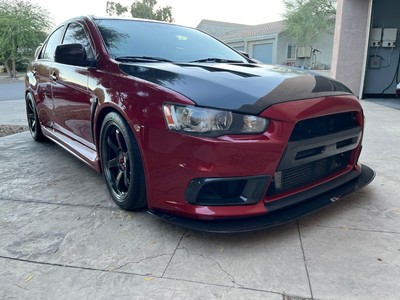 Dyno video. text 7o2=8o7 l998 for more info! This car is insane & sooooo much fun. I still have the original cluster with the broken needles & will include it with the sale of the car. realistically the car has about 68k miles.
dyno video
slow shifting WOT pulls with half 91oct & half e85 in the tank.
-721awhp flex fuel tune by English racing
-Buschur racing assembled engine
-Ets 6466 turbo kit (ceramic coated)
-Darton Sleeves with machine work done by golden eagle
-Head ported & polished by portflow
-Gsc s2 cams
-Ferrea full valve train (dual springs)
-ARP main & head studs
-Turbo tuff rods
-88mm wiseco pistons making 2.1 engine
-Exedy twin disc clutch
-AGP intercooler
-Turbosmart blow off valve
-Grimspeed boost solenoid
-Defi BF gauges
-AEM wideband sensor
-VTA catch can
-Buschur double pumper
-2000cc ID injectors
-18" VOLK TE37 with custom matching red decal
-Brand new Michelin pilot super sport 265/35/18
-Carbon everywhere
-Stop tech pads & rotors
-Short throw shifter
-ENTIRE stereo upgraded with 12" woofer
-lowering springs
-sway bars
-Tons of stuff I'm forgetting.
The car is insane. it breaks all 4x tires loose in 3rd gear on the freeway. once the tires are warm it will hook up.
5-6 years ago the car had a stock block & a 5858 turbo. The clutch went out & I decided that I would build the engine since it would already be halfway removed in order to change the clutch. I had the valve cover powder coated candy apple red to match the car (biggest mistake ever) After the engine was sleeved / built it kept losing compression before they could even get it tuned. It kept having to be rebuilt... Way later I discovered it was due to sand from the sandblaster getting stuck in the baffles of the valve cover when it was powder coated. You couldn't hear any loose sand in the valve cover but once the engine warmed sand would come out into the oil. It took a very very very long time to pull the engine multiple times & rebuild it until we finally discovered the cause. It was at Church automotive for nearly 2years until they got tired of rebuilding it for free & gave up. After doing some reasearch & making calls Bushur confirmed my suspicion that it was due to the powder coated valve cover. I pulled the engine out & shipped it to them. right when I had sent them my engine the shop was sold to a new owner and everything got crazy behind schedule. they had the engine for nearly a year. it was literally over 3 years of the car not running all due to this powder coated valve cover. Then once I got it running reliably I needed a new front bumper so it went to the body shop and it sat there for a good 6 months. Then I changed a few parts & needed a tune but all the good tuners in Vegas are no longer here... so I had to ship the car to English racing which took a bunch more time. Since the clutch went out about 5yrs ago I've hardly driven the car. maybe a couple hundred miles.
I never wanted to sell It as a project car & take a huge loss. Not to mention I wanted to see the car hit the goals that I had for it, nor do I like being defeated. After the body shop got the car sexy looking & English racing dialed in the tune I drove it for a few months & finally got to have some fun with the car. Although I have an Audi R8 & a Panamera so I really don't need another fast car. Plus my left knee has been giving me problems, I think manuals are no longer an option for me. This is your chance to have a fully built car but not spend a massive amount of money or deal with the headache along the way.
The car is in excellent shape inside & out. I can provide more pictures or videos of anything for a potential buyer. It starts right up, drives great, etc. It is an absolute blast to drive. Although It is a 4 cylinder putting out 720whp so occasionally it will idle rough after several WOT pulls. English racing said if I did some data logs & emailed it they would look at the logs & send a map revision to help with any issues. I just haven't had any time to do that, nor has my knee been feeling good. I welcome & encourage anybody to come check it out in person. I will be happy to give you a ride in the car but no test drives unless a deposit is given / we have a deal in place... If you are not local I am happy to do FaceTime or film and send extensive videos/info.
The needle on the gauge cluster broke off years ago (around the time that the clutch blew) so I bought a new cluster
You can see on the auto report when the car got its last scan at 66k miles in 2016 then no action for several years. I still have the original cluster with the broken needles & will include it with the sale of the car. realistically the car has about 68k miles. obviously with no scans from smog check, dmv registering, etc, clearly the car has not been driven/registered since 2016. until recently when I started driving it again & registered it about 7 months ago...
This car is insane & sooooo much fun.
text 7o2=8o7 l998 for more info!