Just wanted to share my Evo "build" to the community and my support for the awesome guys at South Side Performance (both SSP and SSP-TX) and
[email protected]
You might remember my car from such threads as:
http://www.evoxforums.com/forums/showthread.php?t=57194
http://www.evoxforums.com/forums/showthread.php?t=57236
After getting to see and help out with so many crazy Evo and GT-R builds, I've come to realize that such big builds have very little impact on the average, conversative Evo owner. Not everyone wants to go through the time/money with a 500+ whp machine for their DD; not everyone tracks their car frequently; most Evo owners auto-x at the most; and yet so many threads are still popping up asking what is the best bolt-on intake/exhaust/coilover/etc. I wanted to showcase a liveable and relateable Evo setup - in essence, what the Special Edition should have been.
To showcase this car's ability to perform, I will be competing in the Houston SCCA Regionals - one of the most competitive in the nation. This past sunday was Regional #1 for the 2012 season! :godance:
Hope you guys enjoy the read!
Major Mods:
SSP-TX Intercooler Piping
- SSP has shown me the downfalls and annoyances of having heat-soaked steel piping, so
[email protected]
prefers to make his own intercooler piping from high-quality aluminum. When the factory LICP is already well designed, David found no reason to build a wimpy 2.5" replacement, so he also goes a step further and makes a 3inch (rather than 2.5) LICP to help keep the air at it's coolest before hitting the throttlebody/engine.
AEM Intake
- Being an SST equipped car, there is always the problem of not being able to route a cold-air intake lower along the bumper. Eric and David @ SSP-TX showed me first hand with my Ralliart that heat-soak and intake design really DO matter. Despite some intakes out there coming from big brand names, one of the only intakes SSP-TX were truly happy with was the AEM.
- Maintaining the well-designed airflow route with the OEM snorkel, the AEM avoids many heat-soak issues, providing true cold-air from the front.
- The MAF sensor is placed in a much better location to avoid turbulence, making MAF calibration much more precise. Eric scaled my MAF a strong 17% for this intake after install.
ETS 3.5" FMIC
- Despite what some might think, the stock intercooler gets heat-soaked VERY easily and is pretty sub-par for even the mild daily driver. Even doing baseline pulls on the dyno showed consistent power loss from heat even in cold weather as you can see below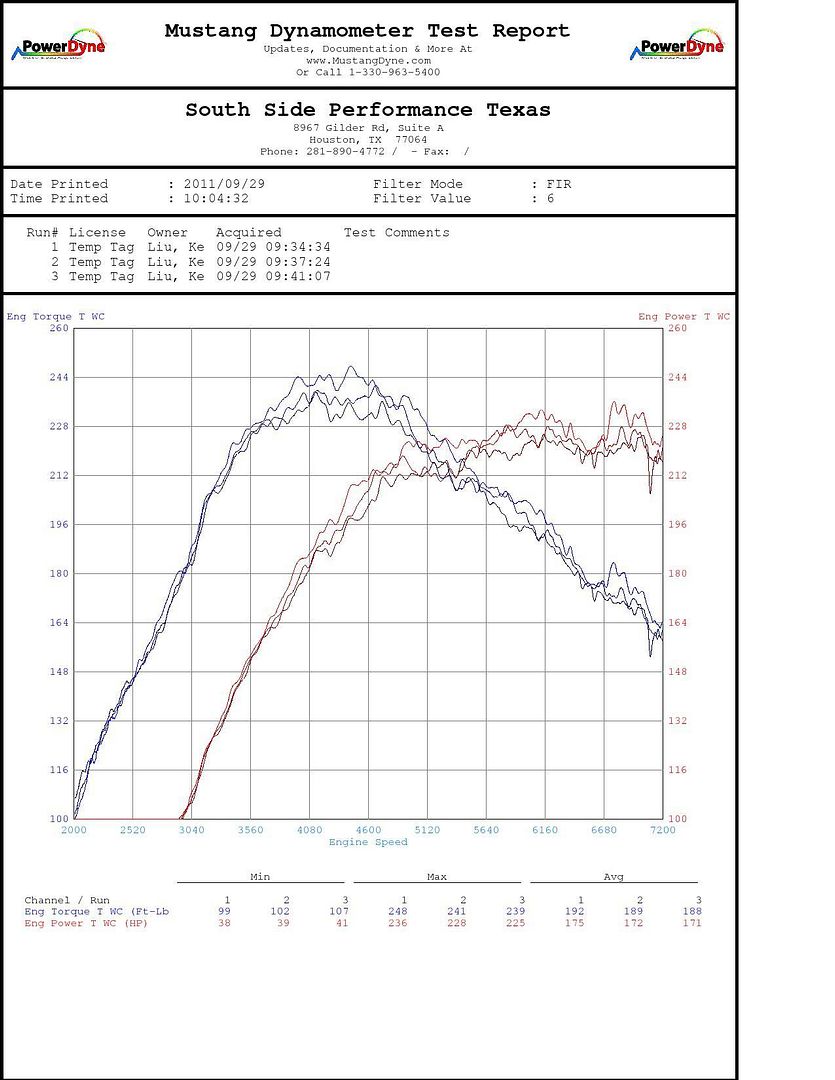 - Out of all the intercoolers available, the SSP crew found the quality and price of the ETS FMIC the top pick on the market. Other cheaper cores showed much lower-quality welds, and the more expensive options just didn't show enough to warrant the extra cost. ETS has also been a great help with SSP's other builds including Jeremy, Chen, and Eric's car, so ETS was an easy choice when it came to intercoolers.
Grimmspeed 3-Port
- SSP has shown me the many benefits to running an ECU controlled 3port, especially with SST's. With the SST working so closely with the ECU to put the power down, it just seemed absolutely silly to take boost control away from the ECU to do it manually. I just frankly don't see the point in MBC's. I recommend everyone get one and a tuner that agrees on its benefits.
Synapse DV
- This is hands-down one of the best bov's on the market. No intentions to be flashy or cool sounding - just pure reliable function. I'll never understand why people fiddle with "cool" bov's. The reliability and durability of the Synapse makes it cool in itself
SSP-TX Aluminum Exhaust
- Not being 100% satisfied with the market offerings for Evo X exhausts, David sets himself out to build a quality, lightweight, free-flowing exhaust system. Because they are hand-built, this exhaust flows in such straight lines with no weird bends you find on other popular exhausts
- Because of SCCA classing rules, I required a HFC. With such straight-flowing exhaust design, I only lost 3whp compared to other cars running the same exhaust without a cat. Very impressive imo!
SSP Pro Gold
- Honestly, I was nervous from the horror stories of SST temp sensor failures with aftermarket fluids, but Eric and David helped put those worries to rest. Being very un-biased of brand and focusing purely on personally seen results, I knew I could trust his opinion.
- As discovered in the early days of the SST, the break-in period is the worst thing the SST fluid can experience. Tons of metal shavings contaminate the fluid and float around, and the filter is completely trashed by 10k miles. Changing the fluid early is an absolute MUST for SST owners. Yes it's hard to swallow the cost, but the fluid lasts quite a while after the first change and getting rid of those nasty metal shavings
- The shift precision with the Pro Gold fluid is stunning. I didn't think S-Sport could be any better, but it's great how it feels now. The SST clamps with such precision and surefooted-ness it's addicting
- The fluid also handles heat better, and I've seen much lower SST temperatures just from the fluid change, before an upgraded SSP SST cooler
GTWorx Springs (on OEM Bilsteins)
- This is the one that surprised me the most. I wasn't ready to plunge into higher-level $4k+ coilovers, yet I wasn't very impressed with the lower-end options like BC's (had them on the Ralliart, they never felt right)
- Then Andrew at GTWorx showed the release of the GTWorx Springs. I was wondering - why release springs so late into the Evo's market lifespan when so many options are already available (swifts, eibachs, etc) -
many of them that they sell themselves
.
- After extensive discussion with Andrew, I learned that we shared a lot of the same goals for suspension setup - allowing us to carefully pick what was needed and what was not. Many others just dive into a coilover purchase (be it low-level or high-end) and end up with a mess that they think handles better. More on this later