Expect lots of added Auto X / Track Vids as time goes on!
Various Ramblings:
So, I'm going to be up front here... I'm not building the engine...yet. But I do plan to continually beat the ever living piss out of my car until I do. Needless to say, I have already attended 7 Auto X events and a weekend at Tail of the Dragon in the past 3 months and already have 2 track days scheduled within the next 2 months - on top of future Auto X trips.
After following other builds very closely on these forums, I've decided to go the "beat it til' it breaks" route rather than the build it first route. Let me be clear though, I don't expect to make the car more than 500whp any time soon, I'm not a drag guy, and I Auto X too much to really want 500whp.
Nevertheless, when my engine does go, which could be tomorrow morning, or a year from now, it's going to be a 2.3/2.4L stroker build, all done at one shop, from start to finish, including tune, with the requirement that I get to sit in and watch whoever it is tune the car myself (so I can learn).
Anyways, so on with the build thread. I'm a bit lite on the pictures, guess I always felt like it was a little too nerdy to go someplace nice just to take pics of my car, but I did it once under peer pressure and didn't regret it
. Ironic that
I
thought it was too nerdy, considering I have a picture of Shaggy as my avatar for no reason other than the fact that I look uncannily like him.
I fully plan to post Auto X and Track Videos on this thread and keep it up to date.
So here is the most recent - Iphone 3g Pic of my GG Evo X: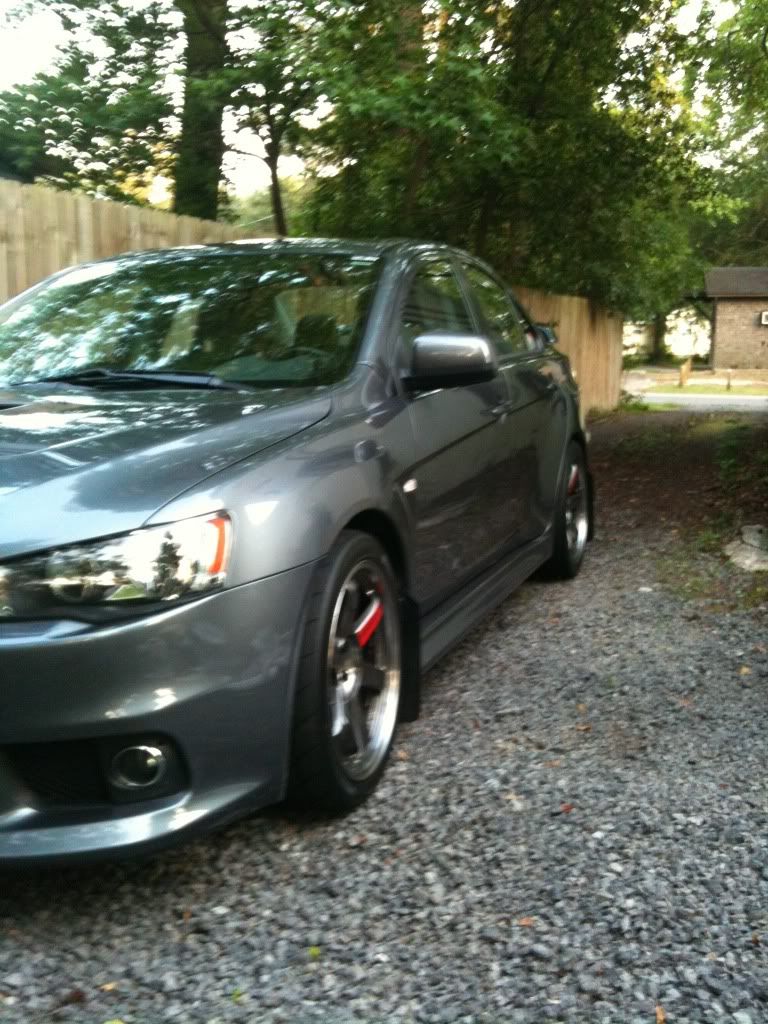 I just got my AMR coilovers installed recently and the ride height is a little high in the front, I plan to drop it down a hair to get rid of that gap. Love the coilovers though, they were pretty handy at my last Auto X, a noticeable improvement over the GTWorx Springs I was running.
Here are some older pics, at various points in the life of the car. The first of which is with my 2 Auto X buddies, a Supercharged S2k on E-85 running 315's in the back and 275's up front and a Turbo 350z with about every mod known to man. My Auto X competition (the s2k usually wins
)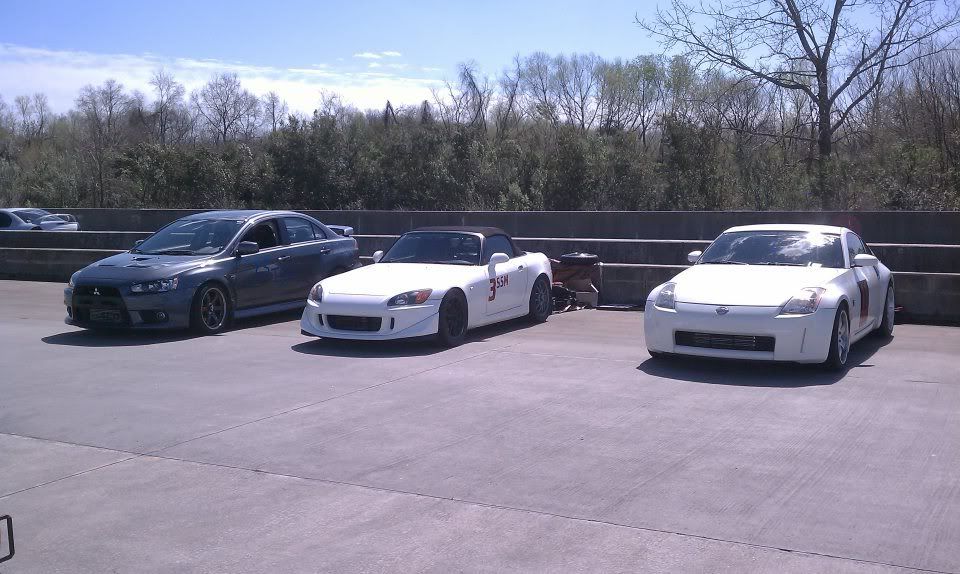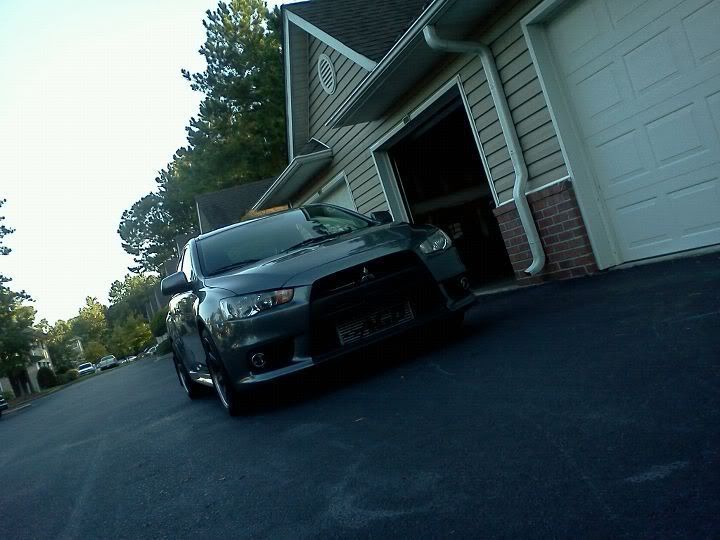 The History:
I got the car back in March of 2010, within a few months had an AP with basic bolt ons. A month after that a Pro tune at Forged Performance in Atlanta by Sharif. Stayed just like this for about a year, tuned at 28psi, didn't beat on the car too badly. Then I met some other Evo owners and the "itch" returned. Within a couple months I had full bolt ons and a tune by Spec Ops motorsports. A month later, I was tinkering with my tune. Then came a test pipe instead of a HFC...then I dropped nearly 5k on a BB FP Red and supporting mods.
40k miles (STOCK CLUTCH!) in 2 years and now my mod list has become the following:
Forced Induction:
-Ball Bearing FP Red Turbocharger
-Cobb UCIP and LICP Kit
-Perrin 3 Port EBCS Pro
-AGP FMIC
-AFE Dry Flow Intake (soon to be upgraded to 3.5", my 3" is about tapped)
-Cobb FP Turbo Inlet Pipe
Exhaust:
-Map Shortrunner Tubular Exhaust Manifold (replaced with ported stocker 06/2012)
-AMS Widemouth o2 DP
-Turbo Xs TestPipe & Cat Back Exhaust
-MAP Firewall heat shield.
-MAP Cam sensor heat shield.
-MAP Valve cover heat shield.
Drivetrain:
-Built 5speed Transmission by Jacks
-Act HDSS Clutch
-Magnus Clutch Master Cylinder
-Boomba racing front and rear motor mounts.
Suspension:
-AMR Coilovers 10k/10k
-Whiteline Roll Center Kit
-Whiteline Rear Sway Bar
-Whiteline Front Sway Bar
-RacingLine Rear Endlinks (Broke)
-Perrin Rear End Links (on car)
-Whiteline Front End Links
Engine / Fueling:
-Walbro 255 Fuel Pump
-ID 1000 Injectors
General / Gauges:
-Works Short Throw Shifter
-Works Urethane Console Bushings
-Works Hybrid Cable Bushings
-AMS Gate Selector Bushing
-AEM Digital AFR Gauge
-AEM Digital Boost Gauge
-AEM Digital Oil Pressure Gauge
-Rally Armor Mud Flaps
-SRP racing Pedal(s)
-DSG Performance 3 Pod Forever Driven Pillar
Wheels / Brakes:
-Volk Te37SL 18x9.5 +22
-Hankook RS3's 265/35/18
-Carbotech XP10 Front / XP8 Rear Brake Pads (Track / Auto X)
-GiroDisk Magic Pads (Street)
Previous Mods (now upgraded)
-GTWorx Springs
-Turbo XS High Flow Cat
-Synapse DV (upgraded from this back to the stocker...)
-ID 1000 Injectors (on my 2nd set..)
Future Plans:
When I have the money, or want to:
-3.5" Intake
-Catch Cans with Filter
-AWD Motorsports Aluminum Driveshaft + Bushings
-Girodisk 2pc Slotted Rotor Set
-Cams + Valve Springs, still undecided on which ones.
-285/30/18 Tires
When Necessary:
- Full Engine build, 2.3/2.4L, built by Map or Speed Circuit, or some contributing shop on these forums with good service.
- Clutch, haven't decided on one yet, I plan to continue to beat the stocker into oblivion. 40k miles so far on it!
Mod Pics / Thoughts
BB Fp Red: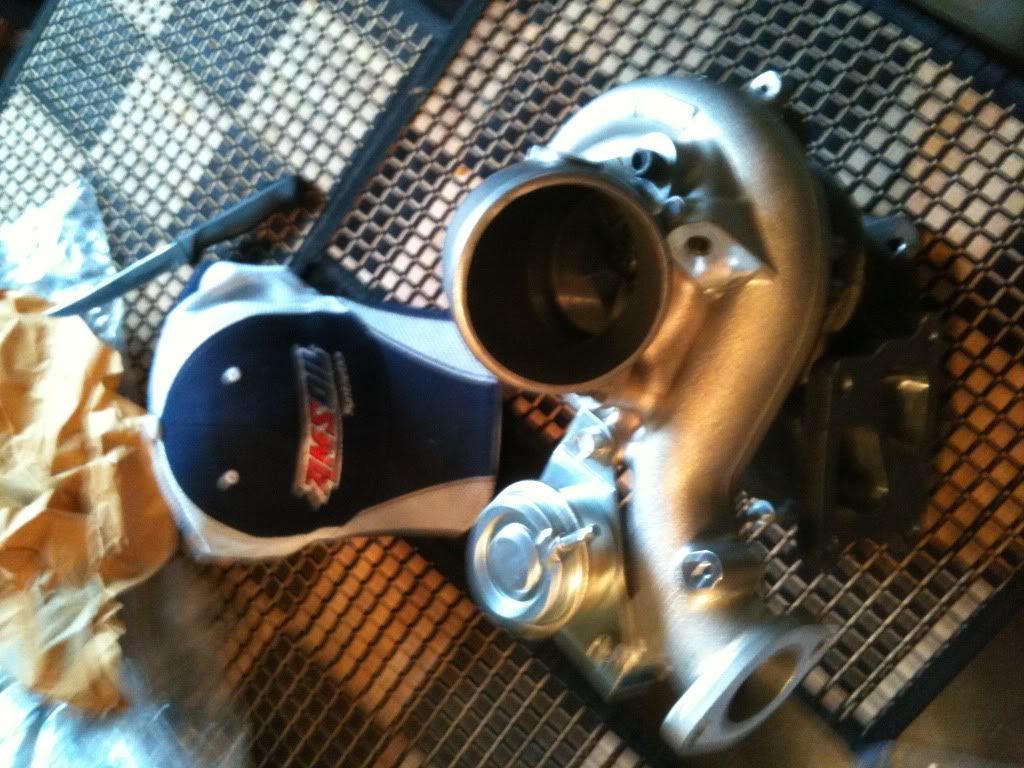 Ok so the BB does spool maybe the tiniest bit faster, is it worth another 700 bucks or more? I'm not so sure I can say yes to that. It's a badass turbo, it's a great meet-you-in-the-middle turbo that can be run on stock block, but can also make big power on race gas or e85. It can flow a lot of air but still keep decent spool, and it's usable at Auto X (check my vid) but not not really at home there. It's not amazing at Drag, but it's not bad, and it's not perfect for a road course but it does quite well there too. It's a little laggy for DD but not terribly annoying. It's a great all around turbo for someone who does a bit of everything, and if you build the engine you don't really need to upgrade the turbo if you want to get more power, turn up the boost, the Red will love it.
Map Shortrunner Exhaust Mani: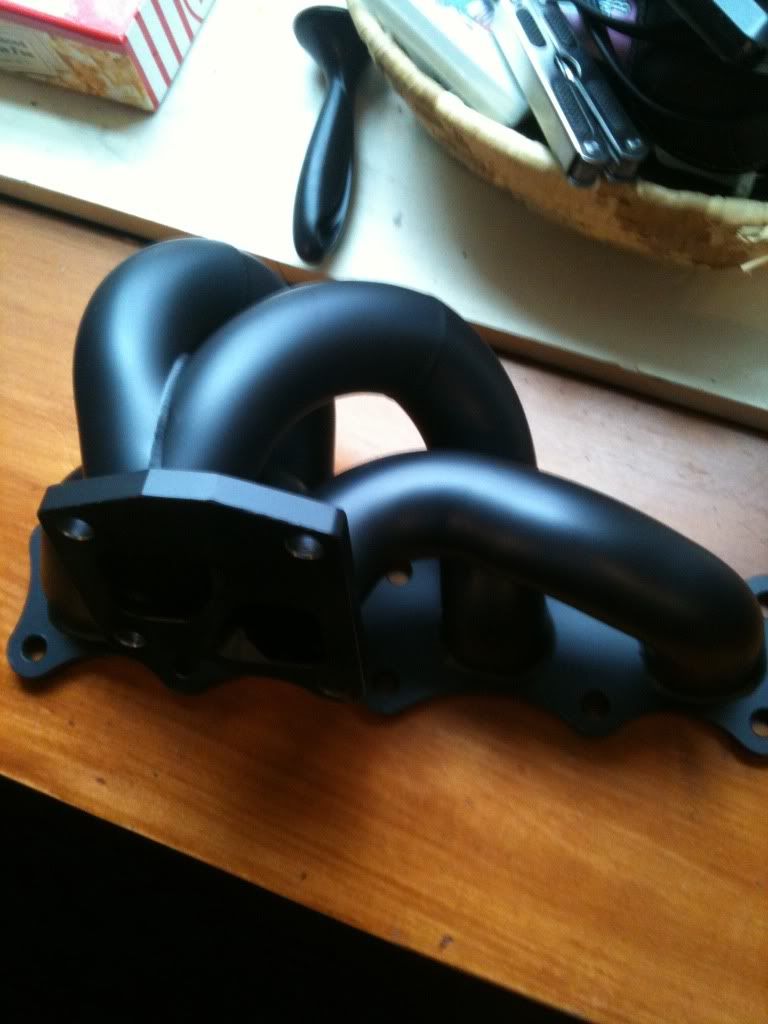 Did I lose spool with the short runner? I don't know, I suppose so. Did I gain power? I don't know, but I suppose I did. I really just don't flippin know. I upgraded it when I did the FP Red and I got it for a great price from
[email protected]
and I really just don't freakin know what it's doing for me. I'd have to remove it and put the stocker back on to really know.
It looks nice though, the coating is nice, and I like it overall!
My Mod / Forum Philosophy
Ok, so this may be a bit stupid, but over the past couple years in this community I've noticed patterns and absorbed so much information such that I have developed my own philosophy when approaching my car. Here are some lessons / opinions I have gathered over time. Perhaps they're...pointless ramblings... but it's late, I'm bored, and I have... literally ... nothing better to do.
1:
Brand Agnosticism
:
A quality piece if a quality piece, and a pipe is a pipe. If you look at my mods, you'll notice I have about something from everyone. I choose what I personally believe to be quality pieces, and don't skimp out on the important ones, but a test pipe is a test pipe, and I don't care if it's made by Turbo XS or AMS. If the welds look good, I'm happy.
2:
The only person looking out for your best interest is you
I'm not attempting to start drama here, but I've discovered that when it comes to modding is that your ignorance = your loss. The more you mod, the more being ignorant about your car and how it works is going to cost you. I've seen too many engine failures by people b/c they neglected or didn't know enough to realize the warning signs. Who may have taken their car to the wrong shop, or who changed a mod without getting a tune. Fact of the matter is, I taught myself to tune partially b/c I think it's incredibly interesting and enjoyable, but largely because I feel like it have a personal responsibility to make sure my car is running in tip top shape, and I can't do that by trusting a shop that tells me I have a good tune. How am I to know?
When I was tuned at Spec Ops the entire tune was completed, neigh, two tunes (high boost and lower boost for track / auto x) were done, in 1.5 hours. This immediately threw red flags since Sharif at Forged (my first tune) spent 6+ hours with my car on the dyno ... for basic bolt ons! That was a flat rate too, not some hourly B.S. Needless to say, I looked at the Spec Ops tune, and while, to be honest, it was actually a pretty solid tune, you can only be so thorough with 1.5 hours with a car...
3:
HP numbers mean dick.
Honestly, they don't mean squat. Everything is too damn easily fudged, every dyno for every mod is basically fudged. 60 whp from an intake? Yeah...ok.
4:
Your tune can always be improved.
Don't care how long you've spent on your tune, there is ALWAYS room for improvement somewhere, so eventually you've got to just say "good enough". So keep that in mind, when a tuner is finishing tuning your car, it's because they decided to say "good enough". The difference between tuners is really at which point they say it's "good enough". Ok, so thats not the only difference obviously, but an important distinction you should consider.