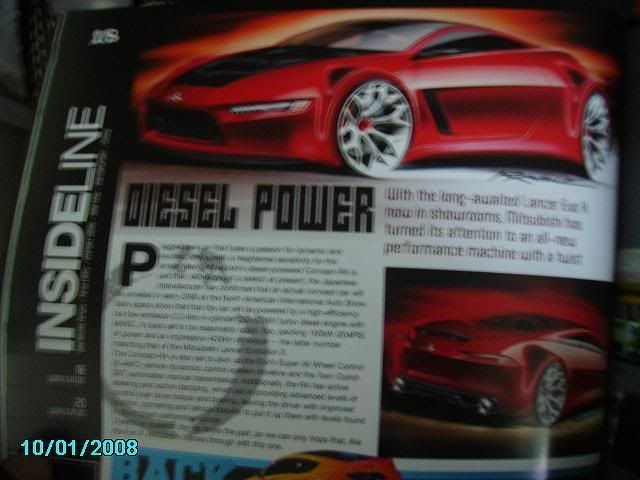 Found in the NZ performance car magazine.
Pegged as a car that fuses passion for dynamic and exciting driving with a heightened sensitivity for the environment, Mitsubishi's diesel-powered Concept-RA is just that. Although just a sketch at present, the japenese manufacturer has confirmed that an actual concept car will be unveiled in early 2008. at the NAIAS.
Early specs show that he car will be powered by a hight efficiency but low emission 2.2 4-cylinder DOHC 16V turbo diesel engine with MIVEC.
It looks set to be reasonably quick too packing 204PS or power and an impressive 420NM of torque....

The C-RA is also set to pickup the evo X's S-AWC and twin clutch system SST..

Additionally the RA has active steering and active damping, which aid in providing advanced levels of control over torque and braking, leaving the driver with improved traction, cornering and vehicle stability to put it up there with levels found in the highest-performing Lancer.
So basically its a two door diesel coupe with the the EvoX driveline and technology. It looks a little like a cross between a two door evo X hatch and a MMC FTO.