Motion Lab Tuning has all your performance electronic and gauge needs. We have great pricing on all the top brands in the industry!
AEM Digital gauges
:
AEM UEGO
-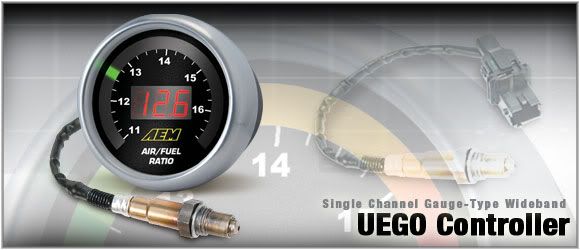 KEY FEATURES
No free air calibration required - ever
Accurate to .1 AFR
Includes white and black gauge faces
Includes black and silver interchangeable bezels
Includes Bosch 4.2 sensor for optimum accuracy and reliability
0-5v analog output included for use with data loggers and virtually any engine management system
0-5v analog output Gasoline values from 10 to 20:1 AFR
0-5v analog output E85 values from 6.6 to 13.2 AFR
0-5v analog output Ethanol values from 6.14 to 12.3:1 AFR
0-5v analog output Methanol values from 4.4 to 8.8:1 AFR
0-5v analog output Lambda values from .68 to 1.36:1
AEM TruBoost
-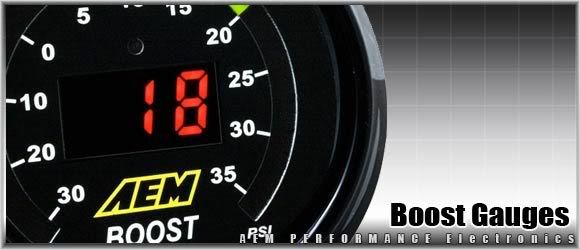 PRODUCT FEATURES
No external interface required for programming!
Complete system includes harness, boost hose, on-board 29 PSIg pressure sensor (external 75 PSIa optional), boost solenoid, gauge display and all necessary fittings
Quick connect technology eases the installation process
Two user selectable boost settings with peak boost memory
Scramble boost setting allows user to momentarily change boost levels
User selectable Overboost alarm includes two timed shutdown levels at 10% and 20% Overboost
User configurable gauge includes 24 scalable LEDs, and interchangeable bezel, pin guide and faceplate to customize look of display
One (1) low-side output included for warning lights
AEM Oil/Fuel pressure gauges
-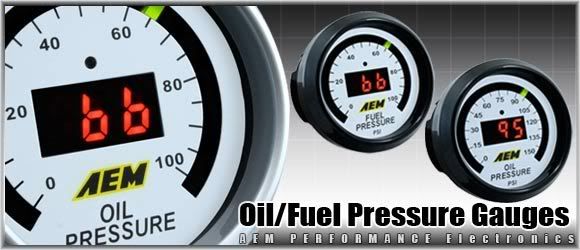 A complete gauge system that includes a sensor and requires no additional parts.
Gauge pressure range 0-100psi for Fuel/Oil or 0-150psi for oil only
Includes easy-to-install harness and sensor
Complete stand alone gauge requires no additional sensors or programs to operate
Ideal for both fuel injected and carbureted motors
LED displays provide precise reference to critical operating
STRi
has a great line of gauges called the X-line v2 that look great with white backlighting when paired with the EvoX clutster. We have been selling a lot of these gauges because they look great, perform great, and come at a very affordable price. These gauges include all necessary sensors:

These gauges are available in 52mm and 60mm. White or Amber lighting.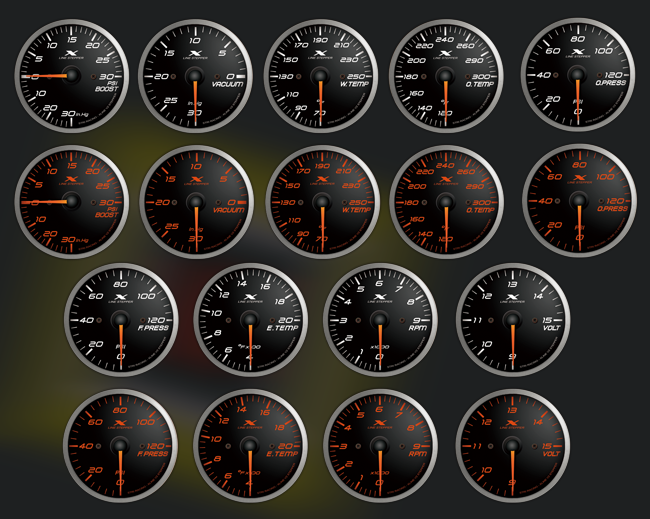 DEFI
is the cream of the crop for Japanese gauge makers. Their Racer line of gauges do not require the DEFI control unit to work. Racer Gauges are quick-responsive and high-accurate analog gauges. Boost, pressure, temperature, exhaust temperature, and volt gauges are available. The diameters are 2 1/16inches(52mm) and the colors are blue, red, and white.

Here are some highlights of the DEFI racer gauges:
Stepping motor "STEP MASTER VS-2" provides smooth operation.
Illumination using high-brightness LEDs
Lightning-like Opening / Closing mode
Self-diagnostics function monitors both sensor disconnection and short-circuiting during startup.
Full 270 degrees sweep dial provides ultimate visibility.
A mounting bracket and instrument case is provided with the product.
The red triangle of the regular position bezel can be used as a warning indicator and others.
Does not require the Defi-Link Control Unit for use.
Opening Sweep:
Closing Sweep:

PM, call, or send me an IM for more info, pricing, or to place an order! Thanks for looking.
Alex Goodwin
[email protected]