Motion Lab Tuning offering COBB AP w/ free overnight shipping!!

Free overnight shipping on the COBB accessport! Don't wait to get more power and off that slow stock tune! Motion Lab Tuning is also happy to offer road, dyno, or remote tuning for your Access Port. Here is some more info about the accessport from COBB tuning:
Modern vehicles are very sensitive to performance modifications. Simply changing an intake can have a dramatic, even degrading effect on performance and driveability. This is because modern ECUs (Engine Control Units) use very precise sensors to collect data in order to calculate appropriate fuel, ignition and cam phasing responses. Modifying a vehicle with performance parts will most likely cause one or more sensors to be improperly calibrated, feeding erroneous data to the ECU and contaminating the response. This is why changing a part as simple as an intake or a panel filter can cause the engine to run too lean, too rich, or even stumble.
The AccessPORT is the device that enables recalibration of sensors and manipulation of data on the factory ECU. It provides the capability to reflash select segments of information that are stored in the computer that control engine function. These segments of data that are written to the ECU are collectively referred to as maps. Our engineers and calibration specialists create maps that modify sensor calibrations, lookup table values and algorithms to ensure that the ECU is receiving accurate information and responding in an appropriate way.
COBB Tuning provides Off-The-Shelf (OTS) maps for the most common modifications made by performance enthusiasts. These OTS maps recalibrate the appropriate sensors and modify tables with more aggressive settings. The result is increased power output, improved response and better driveability, since all of the components are working together in harmony. It is the ultimate integration of performance and sophistication as the manufacturer's complex and precise engine management logic and ECU data integrity is retained.
The beauty of the AccessPORT is that it can continue to grow with additional modifications beyond the scope of the OTS maps. For more extreme modifications, COBB Tuning AccessTUNER software can be used to create custom tuned maps that match the modifications perfectly. COBB's extensive network of professional tuners are available to custom dyno tune any modification configuration. For those that want to take on the challenge of tuning their own vehicle, AccessTUNER Race is downloadable software with all of the tuning capabilities as used by our professional tuners.
PM me for more info, to schedule a remote or dyno tune, or to order your Cobb access port!
AEM EMS-4: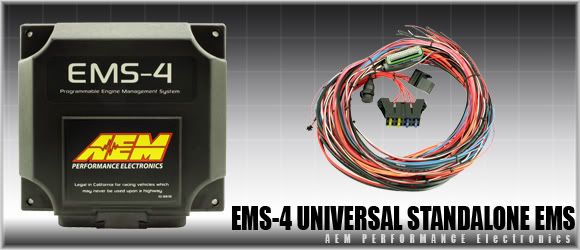 AEM's EMS-4 Universal Standalone Programmable Engine Management System is the ideal standalone Engine Management System for modified Powersports and four-cylinder race car applications. The EMS-4 was created using AEM's powerful Series 2 hardware and includes all of its advanced features without the unneeded ancillary components.
KEY FEATURES
4 Saturated Injector Drivers
4 Coil Triggers
8 General Purpose Inputs/Outputs
Mag or Hall Cam and Crank Inputs
O2 Input
Knock Input
8 MB Internal Data Logger
VSS Hall Input
Can Data Stream
USB Comm Port
Compact (4.8" x 4.55" x 1.44"), weather/shock proof enclosure
Utilizes AEMTuner Interface Software
System is fully enabled and unlocked – Never pay for Upgrades
Context Sensitive Help Eases Tuning Process
PM me if for more info, schedule a remote or dyno tune, or to place your order!
Thanks,
Alex Goodwin
[email protected]