When modifying your Evo X it's easy to set a power goal, and stick to a plan with realizing that dream number in mind. A common oversight during this process however is figuring out how you will then effectively slow your 3500 lb rocket down to manageable speeds when the need arises. We have you covered with the brands you know and trust offering the components that you need to produce efficient braking when you need it.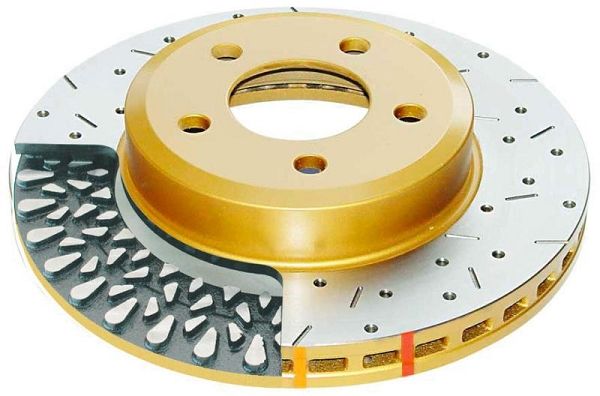 The 4000 Series Wiper-Slot rotor:
Featuring a unique 6x6 slotted design for extreme stopping power on the road and the track. DBA's mid-series, enhanced-performance, slotted rotor features Thermal Stability Profiling (TSP) for improved heat handling and Thermo-Graphic paint markings for effective heat monitoring. DBA is also known for their ''Kangaroo Paw'' ventilation. ''Kangaroo Paw'' is a patented, high-tech disc rotor ventilation system designed and manufactured in Australia by Disc Brakes Australia and available on rotors for select applications. Kangaroo Paw rotor designs run cooler, are stronger, and outperform traditional straight-vane disc rotors. The ''Kangaroo Paw'' design features a series of 144 diamond, and tear drop-shaped pillars and columns individually spaced between the rotor faces.
Brake Rot

o

rs also available from:

StopT

ech

Project M

u

Brem

bo

Giro Disc
Ferodo DS2500:
The DS2500 Racing brake pads represent a new generation of friction material that's low in compressibility, ensuring a firm pedal while providing great disc and pad life. These pads were developed with characteristics that make them perfect for track days, including a consistent coefficient of friction (0.50) at any temperature, providing very predictable braking and great pedal modulation. Combined with low wheel dusting and good noise characteristics, this product is the brake pad for the driver who needs the track-day braking performance out of a pad they can drive on the street.
Brake pads also available from:

Ha

wk

Stop

T

ech
Cosw

orth

Project M

u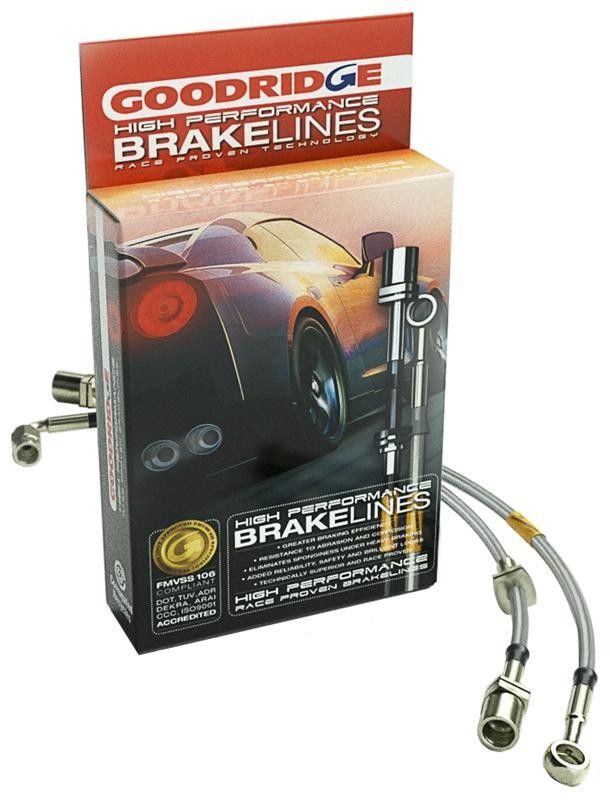 GoodRidge G-Stop Stainless Steel Brake Lines:
Eliminate "spongy" brake pedal feel, reduce braking distance, and increase the safety and drivability of your car by using Goodridge race proven, D.O.T. approved, stainless steel braided and Teflon lined brake lines that are legal for use on any public road. Stainless Steel braided lines do not expand under pressure like the OEM rubber lines, resulting in a more solid braking feel and response. All G-Stop brake line kits come with all necessary OEM replacement hardware for fast, easy, bolt-on installations.
All GoodRidge lines are DOT/TUV approved.
Brake line kits availa

b

le from:

PM, call, or E-mail for most up to date pricing!
Big Brake Kits are also available from StopTech. Racing brake fluids available from Motul, ATE, and Stoptech. We are open Monday - Friday 9AM EST to 6PM EST and Saturdays 10AM to 1PM. You can contact us via forum messaging, E-mail, and telephone.
As always if you don't see it, just ask!
Thanks for looking!
Alex Goodwin
[email protected]
MotionLabTuning.com - Engineering Performance