Discussion Starter
·
#1
·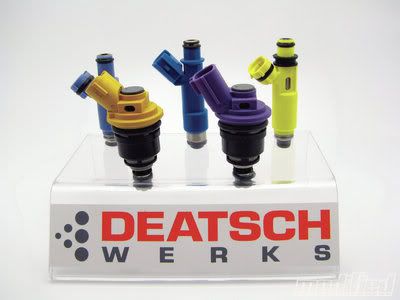 Its official now, Motion Lab Tuning is your DeatschWerks Injector and fuel pump dealer! We met with Mike Deatsch himself at PRI in Orlando and really liked what they had to offer. They have a couple of new fuel pump options coming to the market as well as their already well selling the DW300 that flows an astonishing 320+ LPH. They have a lot of great quality injectors for almost any application. Here is some company info about DeatschWerks:
Founded in 2004, DeatschWerks, LLC is a company dedicated to providing application specific, high-performance fuel systems solutions. Located in Oklahoma City, Oklahoma, DW operates out of its own 12,000 sq. ft. facility that houses all of the company's functions including design/engineering, manufacturing, quality assurance, and administration. DeatschWerks' roots were established by offering high flow drop-in fitment fuel injectors for Nissan engines such as the popular SR20DET, VG30DETT, and VQ35DE. Soon thereafter, DW expanded to cover Subaru, Mitsubishi, and other popular sport compact makes. Today, the DeatschWerks line-up of fuel injectors includes over 250 applications and sizes that cover both Sport Compact and Modern Muscle applications. In 2010 DeatschWerks entered a new territory when they released the DW300-series in-tank fuel pump. Adhering to their philosophy of application specific solutions, the DW301 fuel pump is available with fitment kits for over 30 popular applications.
We are excited to be working directly with a company like DeatschWerks that is continually coming to the market with new and innovative fuel injectors and fuel pumps. Check out all the current DW offerings in our webstore
MotionLabTuning.com | Motion Lab
. If you see it on the DeatschWerks website and not our website just give me a call or email! Just let me know what you guys need from DeatschWerks!
Injector sizes currently available are 850cc, 1100cc, and 1300cc. The new 65c fuel pump is going to be a great upgrade alternative to the current options on the market. It is a direct bolt in. Here is a little info about this great new pump from its debut at SEMA:
The DW 65C is a industry first direct factory replacement fuel pump for the 2008 WRX and STi, along with EVO X. No more grinding, retro fitting, or modifying your stock fuel pump housing to fit a fuel pump. This great new design is a simple OEM direct replacement that is a Remove and Replace procedure. The great compact design, high fuel flow, and ease of install make this the ultimate option for any 2008+ Impreza owner! And with E85, Race Fuel, and conventional fuel compatibility matched up with the 265lph at 40PSI pressure flow this is a no brainer solution for any GH and GR owner!
Let me know if you need any more info on any of these great DeatschWerks products!
Thanks,
Alex Goodwin
[email protected]