Now I have communicated with Swift throughout my process of purchasing the Spec R's. I held off my purchase of lowering springs until these springs came out and I got them rite away. Now the thing with Swift is that they are a fairly big spring manufacturer in Japan and are heavily involved in the race market. In the process of creation they had several Super Taikyu race teams that Swift sponsors help them create these springs for the EVOX market (One of them being the Advantage From A EVO which is a 3 time series champion). You can call them yourselves to find out the rigorous R&D process that Swift goes through to make their spring. I had a pretty long conversation with them about how they went about creating their springs. I'm pretty sure other manufacturers would not spend this amount of time nor even have the connections to research and create what Swift can.
Now onto the review.
So when I first found out the specs to these springs, I was a little worried, I have a GSR and the spring rates are significantly stiffer than what is available in the market currently. They assured me though because they design the springs around the useable stroke and valving of the shock. So I went for it
Received it yesterday and installed it.
Here are the before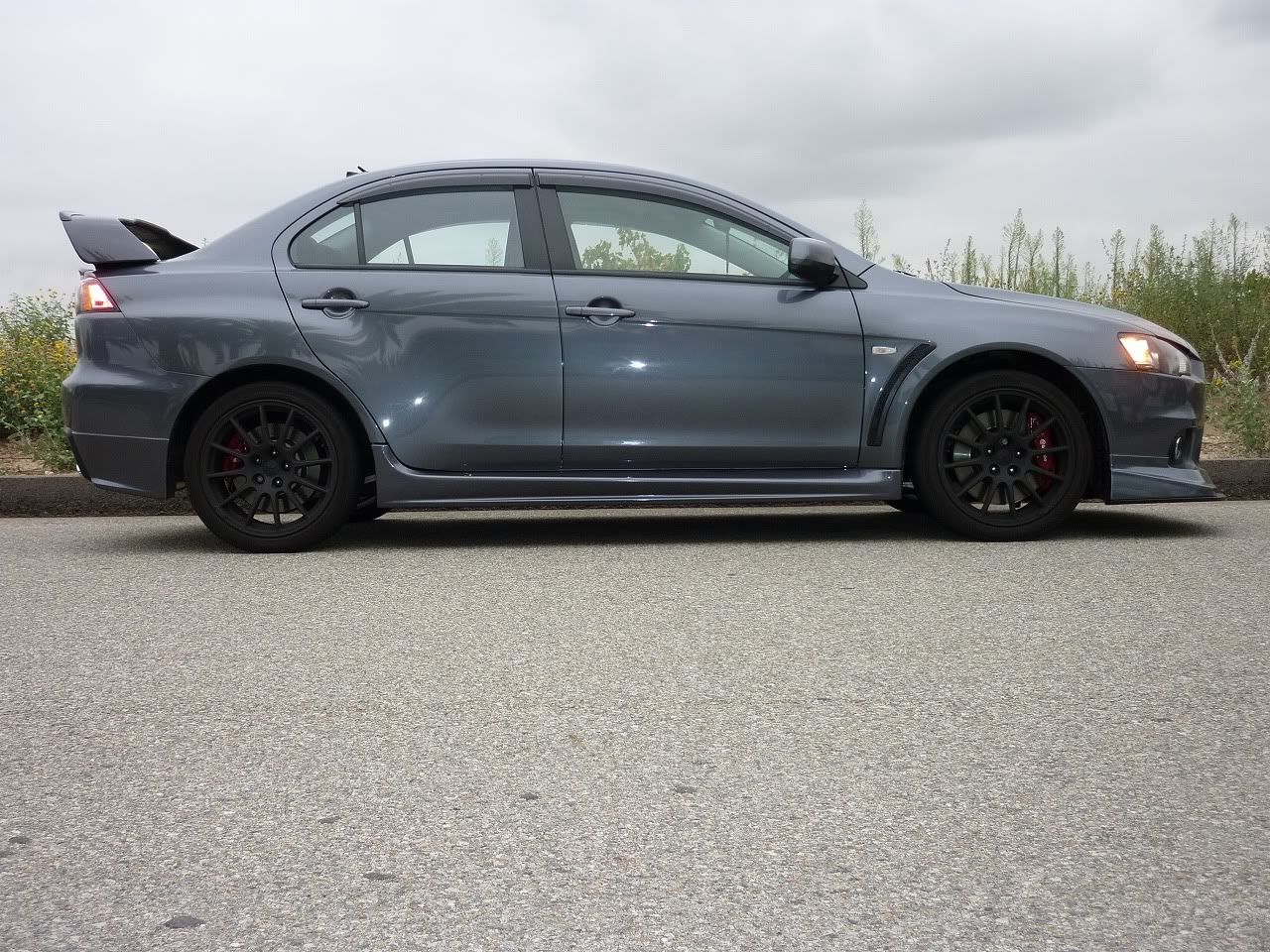 and After
Now these are the pictures right after install. So it is sitting higher and it's already lowered a noticeable amount now. The reason being the top hats have a rubber portion the spring sits on. The rubber needs to be reseated with these springs. I expect it to be fully broken in, in about a full tank of gas.
When first drove out the car when cruising it feels bone stock. In fact it was shocking how stock the car felt. Almost upsetting. I'm used to the coilover roughness that I have always looked for in stiff suspensions in my other vehicles. I can't tell you how stock it felt. I mean through rough patches on the road and everything it just felt stock.
I then took it around a few corners and this is where these springs shined. It is almost no roll, which Im sure you would expect considering the spring rates are a shy away from coilover stiff, but that wasn't what shocked me. It was the fact that the car felt incredibly neutral. Midcorner I can adjust and control the amount of turn in with my throttle. I mean when I floored it obviously it would under but then I lift and the car would turn in perfectly and then I would be able to control that again with the throttle. It was the perfect front to rear spring rate ratio and the perfect rate for fairly aggressive street tires. The rebound adjustment on the shock works with the springs perfectly, it would hold the nose end down just enough to do what I want the car to do. It's most definitely not over sprung but I'm pretty sure they are already at their limits, considering the fact that I wish there were an adjustment knob on the shock so I can increase the rebound slightly, but if I had to choose between Swifts spring rates or higher rebound I would go with the rates.
I will be running several autocross events and trackdays. In fact I have one coming up this weekend, so I can update yall on that. I can tell you this though, on my stretch of road here, I am already a hair under 2 seconds faster without the breaking in of the top hats. I am excited to see what I can do with these springs on the track.
So here is my ultimate feedback. If you're looking to slam your car, like all other Swift products, it will not accomplish what you are trying to do. I feel the drop is good enough to give the car a good stance. Now if you are looking for springs with function, there is nothing else. The thing is Swift Springs did all the research for us. Not only backed up with hard data on stock shock valving and data, but they had real tuners and racers test and figure out the product for us.
In other words if for some reason you do not get coilovers whether it's a monetary issue or just do not want to deal with the uncomfortable ride, this is exactly what your looking for. I do not currently see a better performance option out there.
Thanks for reading and if there is any questions let me know