Discussion Starter
•
#1
•
I'd never have thought I'd have gotten this far into a car to be making one of these but in the never ending quest for more power it's lead to this point. The car itself is a 2013 Evo X GSR. This was my second venture into owning a "tuner" car as I had a 2005 Cobalt SS back when I was 19, so with the Evo I decided to do basic bolt ons with new wheels and lower the car. When it came time to tune the car I contacted Emery from STM because of a mutual friend we have, so I had met him years back. He agreed to tune the car for me even though it had parts from another shop. On the STM mustang dyno the car made 330/330 which wasn't too bad, but as we all know numbers are just numbers so we decided to go racing and see how the sum of the parts worked. I took the car racing looking like this....
Here's another one next to STM TRBOTAXI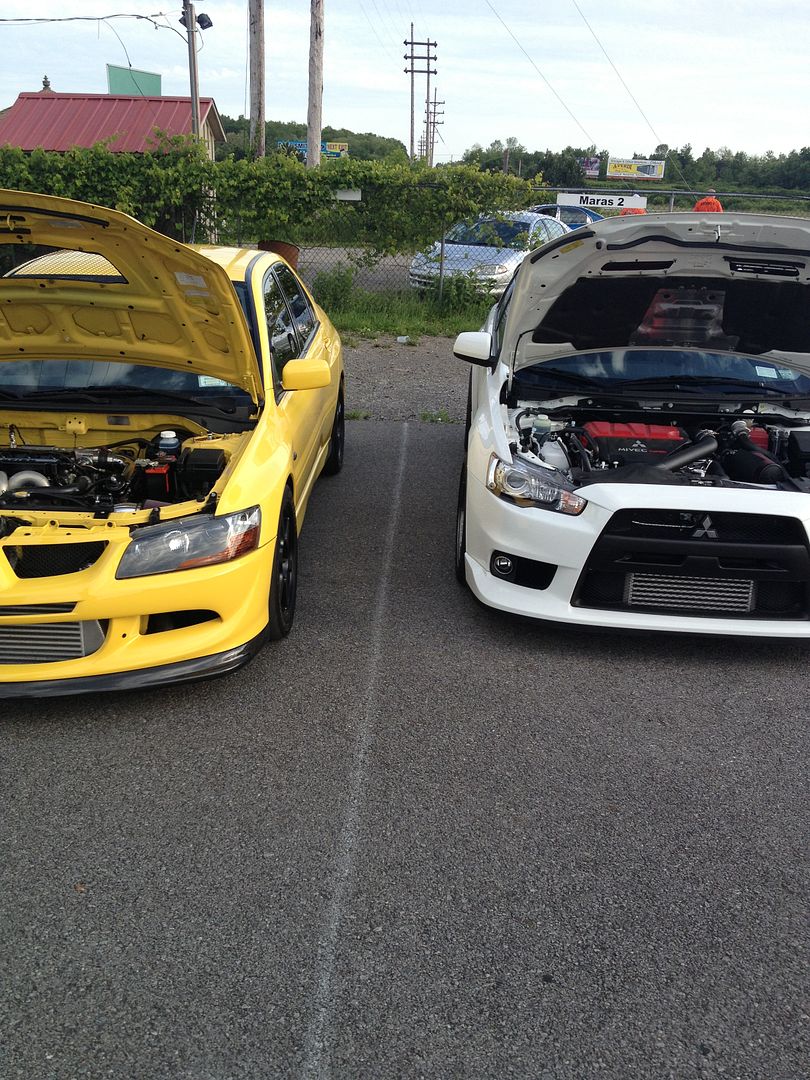 The car ran a 12.24 at 111.77 making it the 5th fastest stock turbo Evo X. The video of the pass can be seen here and was filmed by my good friend Dave(articzap) who does a lot of video work for STM
Not a bad time for it's 3rd ever pass down the 1/4 mile but as always in the quest for more, it's not good enough. So with this in mind I contacted Emery and ran some ideas by him and the car made the voyage to STM. The build consists of every part in the STM catalog for the Evo X, which are all hand made by Austin and Cory who are amazing at what they do. The list for this year consists of the following:
STM upper intercooler pipe
STM lower intercooler pipe flanged for Tial QR BOV
STM 3 inch intercooler
STM 3 inch intake with 6 inch velocity stack and filter
STM 3 inch aluminum test pipe
STM 3 inch aluminum dual exit exhaust with 4 inch tips
STM spec D2 drag coilovers with custom Swift springs
STM Front and Rear Drag brakes with scalloped rotors
STM aluminum power steering reservoir
STM aluminum coolant overflow tank
STM mini battery kit with Lithium Pros battery
MAP upgraded clutch master cylinder(evo 8/9 cmc)
OEM aluminum valve cover coated by Justin at Detective Coatings
Exedy triple plate clutch with ACT monoloc clip
STM clutch fork stop
FIC 2150 injectors
Walbro 450 E85 pump
Kirkey racing seats with covers
The goal for 2014: Not be #5 on the stock turbo list, show the evo X is a capable car for this kind of racing and to hurt some feelings. Ill reserve the next couple posts to show pictures of the progression of the car. All of these parts on the car are available for purchase now as they are not one off parts which is awesome.