Discussion Starter
·
#1
·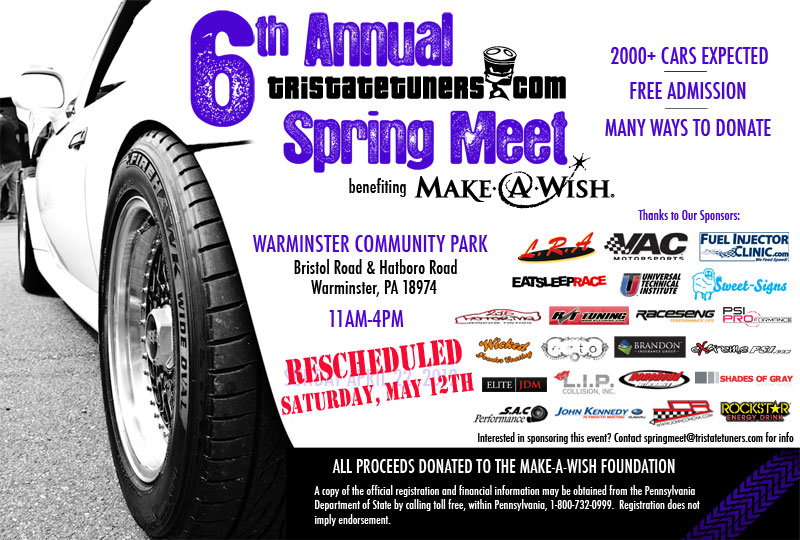 **To see the original thread on TST with the most up to date info and discussion, please go to:
http://www.tristatetuners.com/forum/showthread.php?p=2120931
Everyone's favorite springtime event is back for the 6th year in a row. This year we are at a new location which is much bigger and can handle the huge turnout we continue to get each year. There is a ton of potential at the new location and we are really looking forward to having the space to park cars in a more organized way. And don't worry, we're setting up some great food vendors to be on site so that no one goes hungry.
There will be a huge variety of cars, a ton of great raffles, vendors on site, food available, and it is all helping to raise money for Make-A-Wish.
Last year was an amazing turnout with over 2,000 cars in attendance and $10,000. We can't wait to do it all again this year, trying to top last year's awesome turnout.
There will be many worthwhile and fun ways to donate at the event so please keep that in mind so we can raise as much money as possible.
RSVP to the event and invite your friends on Facebook
Check out our
Officlal Facebook Event Page for The 6th Annual TriStateTuners Spring Meet
. Please visit and RSVP there to show everyone that you're planning to be at the meet. After you RSVP make sure to invite all of your friends on Facebook to make sure that everyone knows about it!
While you're on Facebook, you can
Like TST's Fan Page
too!
Who we are benefiting
This year we have again chosen to benefit the local region of Make-A-Wish. They have been great to work with for the past 2 events and we are looking forward to working with them again to benefit children right from our local area. They will have a representative on site at the event so feel free to say hello or ask them any questions you might have. For more info on Make-A-Wish please visit
www.wish.org
The Spring Meet Website
Our totally new Spring Meet website is coming soon!
How to Donate:
See the many ways listed below that you can donate at the event:
*Donate by buying a Spring Meet t-shirt:
For the second year we will be offering limited edition event tshirts. We are working on an awesome new design now and they will be available for purchase at the meet for $15 each and will be available from XS up to XXXL, but make sure to get yours at the beginning of the day to make sure to get the size you want. All proceeds from Sonic Meet shirt sales will be donated to Make-A-Wish.
*Donate by getting VIP Reserved Parking:
We have made VIP Reserved Parking at the front of the main lot available to those who are willing to make a $25 donation prepaid via Paypal. This will ensure your car is close to all the action. We may have a limited amount of spots for people at the gate, but when they fill up they're gone, so we recommend prepaying for this if you are interested. Those who choose this option will also receive $10 worth of raffle tickets as a bonus.
To reserve your VIP Parking spot today please
CLICK HERE
to make your donation via Paypal.
*Donate by buying TST Merchandise during the meet:
25% of all TST Merchandise sales at the event will be donated directly to Make-A-Wish.
*Donate by buying raffle tickets for a chance to win great prizes:
Enter to win some incredible prizes we've managed to collect... we will announce these prizes soon so you can look forward to them at the meet. All proceeds from raffle ticket sales will be donated directly to Make-A-Wish.
*Donate by being on the lookout for the donation jars around the event to just drop a couple bucks in:
it all adds up, especially with the number of people who will be at the event so please consider dropping a dollar or five into the donation jar! All money collected will be donated directly to Make-A-Wish.
*Donate by purchasing food at the event:
We are working with a variety of food vendors to make sure everyone has the option to eat some good food at the event this year, and a portion of the food sales from the event will be donated directly to Make-A-Wish.
Raffle Prizes
Thanks to our great sponsors, we are collecting a ton of great raffle prizes to award to meet attendees. We will post this list as the meet draws nearer so you know what you can look forward to!
Caravans
Many very large caravans are organized for this event each year, so be on the look out for one that originates in your area to join in on the fun.
If you have organized a caravan and would like it added to this list, please post in the thread with a link to your caravan thread for it to be added.
King of Prussia, PA Caravan Thread
Delaware County, PA Caravan Thread
Lehigh Valley, PA Caravan Thread
Ephrata, PA Caravan Thread
Parking
We will attach a map with the layout of the event including the entrance/exit, vendor area, food, VIP parking area, and spectator parking areas as the event draws nearer so you know what to expect!
Promote this event on your favorite forums
We will create a separate thread to track the other forums that this event has been posted on so that all of you can help spread the word. We will link to that thread from here after it has been created.
Event Sponsors and Donors Wanted!
We're still looking for sponsors for the event to make a donation and/or provide items to raffle off so if anyone reading this is interested or knows someone who might be, please email
[email protected]
for more info. All proceeds are going to Make A Wish, and this is a great opportunity to give back to the community in a fun way!
We hope everyone can make it, but for those who aren't able to you can still donate by mailing a check or via Paypal at
[email protected]
Please contact the organizers at
[email protected]
if you have any questions, suggestions, or interest in getting involved.
Looking forward to it, and hoping everyone comes out to enjoy the day with us.