The SSP Cam Sensor Heat Shield Group Buy @ DSG Performance - FREE SHIPPING!​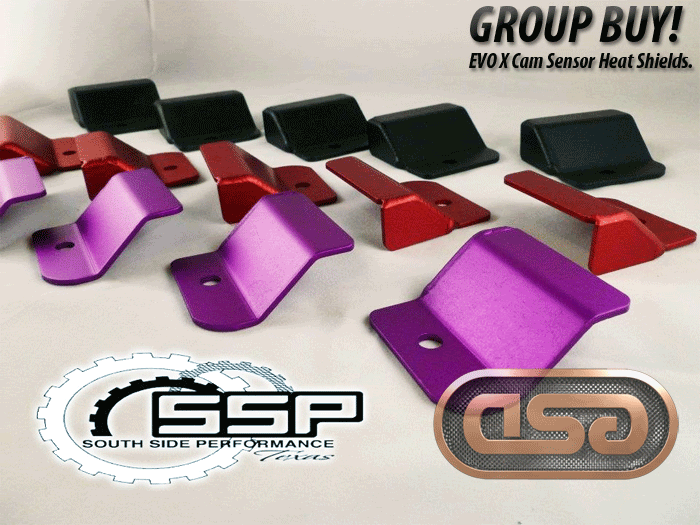 The South Side Performance Evo X Cam Sensor Heat Shield was produced after seeing numerous failures of the OEM Cam Sensor due to increased heat when running a aftermarket Tubular Exhaust Manifold. Failed cam sensors = the suck, protect your investment, and add a little bling! ​
Available in Black,

Red

and

Purple

Adonized finishes with a simple 1 bolt installation, these are a surefire way to drastically reduce heat soak to the Cam Sensor and prevent damage or wear.

​
34.49 + FREE Shipping within the Lower 48 States. + $5.00 Shipping flat rate for Canadian customers. International and other customers please inquire for shipping details.
​
Add your name to the list below and repost!


Here is how to claim your order:
At DSG we like to keep things simple for you, so we have created a product category in our catalog pertaining specifically to group buys -
Click here

to go directly to the Password JDM Washer Kit Group Buy "Product" and hit the BUY NOW button to proceed through the checkout process. If this is your first time buying with us, please place your Evoxforums user name in place of company when registering. This will help us track who has paid.
When Purchasing, you will notice that there is a color option on the right hand side of the page. Please choose your proper color as that will be what we send out to you.
If anyone has ANY questions at all, please let me know - I'm here to help. You can post up here or hit me direct on AIM or my email which can be found in my signature below.
​
Group Buy List:

1. fractur3 - Red - PAID
2. EP Mike - Purple - PAID
3. MarkM - Red
4. Insane_DOHC - Red - PAID
5. Roman - Purple - PAID
6. Eyler_Evo_X - Red - PAID

7. blai4754 - Red - PAID
8. evox23 - Red

9. weap0n - Purple - PAID
10. Madmartigan - Purple - PAID
11. grandhustle - Purple
12. lab rat - Red - PAID
13. jisam - Red - PAID
14. avatar2140 - Purple - PAID
15. Gingevo - Black - PAID
Questions? Comments? Post em on up below!
​