copied and pasted from this thread:
http://forums.evolutionm.net/showthread.php?t=322616
Hi guys,
We've had our Evo X for about two weeks now. Put on close to 1000 miles already. A lot of it on the dyno. Today's tuning results were very positive. Simply put, the X has proven to be more tune-friendly than even the IX. While it makes a bit less power in stock configurations, it ends up making
quite a bit more power
when tuned both cars are tuned. All tuning was done with a modified version of our BMW PROcede v2 engine control computer that was re-coded to accept the new Mitsu-specific 36-3 trigger wheel and misc sensors.
In fact, today's results show that a tuned Evo X (with no additional bolt-on parts) makes as much power to the wheels as a tuned Evo IX with a full exhaust (dp+highflow cat+ cat-back). And that's just for starters.
I'm sure the X will benefit from exhaust upgrades as well as additional tuning. Right now, peak boost is set to 23psi, tapering down to just 15psi by 7000rpm. There's a little bit still left in there.
All dyno testing was conducted on a Mustang Dyno at Full Function (
www.fftec.com
). Baseline was 215whp and 240lbft of torque. Basically right in line with what has been reported by others. Of course, this was on a motor with just 200 miles so I suspect it would have picked up some more hp as it broke in. For comparison, stock Evo IXs do a bit better with approx 220whp/235lbft.
But once boost, fuel and timing were adjusted, we saw a repeatable 285-290whp and 290-295lbft of torque. For comparison, Tuned Evo IXs end up making 270-275whp and 280-290lbft of torque on the same dyno. This is on straight 91oct.
These are very good preliminary results. I honestly wasn't expecting the X to do that well with just a first-attempt tune. Here are a few tuning runs from today: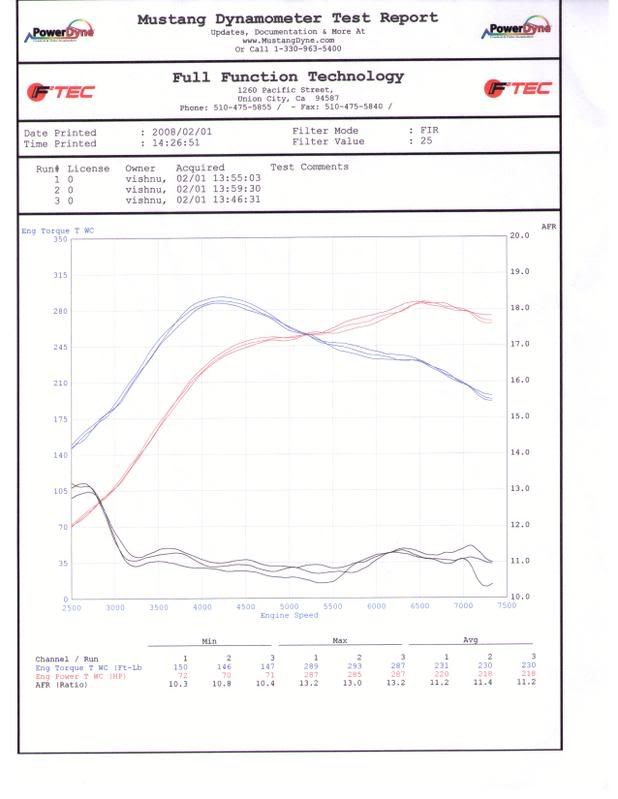 Observations:
-The X runs grossly rich under boost. So rich, in fact, that the engine bogs briefly between shifts at WOT. Really annoying.
-Power output is very sensitive to fueling as soon a AFR leans out from the 10-10.5:1 AFR range it usually runs in at full load. And it stays reasonably sensitive to enleanment even into the 12-12.5:1 AFR range. Something that wasn't the case with the 4G63.
-Engine still makes power in the presence of detonation events (which is not good of course). The 4G63 would behave differently by immediately yanking back several degrees of timing and 20-30lbft of torque. Not sure why the ECU in the X isn't as reactive to knock a the older ECUs. One interesting thing I noticed is that the tachometer movement becomes "sticky" when accelerating during audible knock activity. Haven't seen that before.
-Engine tends to detonation at fuel cut. We had to enrich and retard the last 300rpm prior to fuel cut to prevent this from happening.
Post Tune Driving Results:
-Finally feels like an Evo. And it now enjoys to be revved out to 7000rpm.
-Extra power really makes all the fancy drivetrain electronics shine brightly. Feeling the front end of the car immediately 'tuck in' midcorner as soon as the throttle goes down is downright cool.
-Power output is incredibly consistent and smooth, just as the dyno results suggest.
There is really no area of performance that doesn't have the IX beat handily. The X is more comfortable, more drivable, just as straight-line quick with similar mods, far quicker and more adjustable through any kind of corner, etc,. Really, this is an incredible car. Especially in the rain
Next week, we'll do some more tuning as well as test some exhaust and piping upgrades.
Cheers,
Shiv