Offset Explained:
Wheel offset is simply the distance between a wheel's hub-mounting surface and its center-line:

​
-A positive offset means the hub-mounting surface is closer to the wheel's front side, giving the spokes a flat or convex appearance.

The stock Enkei/BBS wheel on the Evo X is 18x8.5 with an offset of +38.


-A negative offset means the hub-mounting surface is closer to the wheel's back side, giving the spokes a concave appearance.
-A zero offset is where the mounting surface coincides with the wheel's center-line.


Rubbing:
-Because offset determines the lateral position of the wheel, wheel width combined with a new offset must be chosen properly so that both wheel and tire have enough space within the wheelwell to avoid rubbing.
-Rubbing is when the tire contacts some part of the car when the suspension is compressed from: bumps, full load, full lock, or when the car is cornering. If the offset is too low, the outermost tread of the tire can have contact with the fender. If the offset is too high, then the tire may rub on the chassis, bang against the struts, or simply not clear the calipers.


What works on the X:
-Remember, just because it fits - doesn't mean it works!
-These recommended ranges are a good balance between safety, visual appeal, and performance on a stock car with no suspension modifications needed.

8.5" width: +17 to +38 offset (245/40R18 or 245/35R19 tires)
9.0" width: +20 to +32 offset (245-255/40R18 or 245-255/35R19 tires)
9.5" width: +22 to +30 offset (255/40R18 to 265/35R18 or 255/35R19 tires)

Here's 8.5 +22: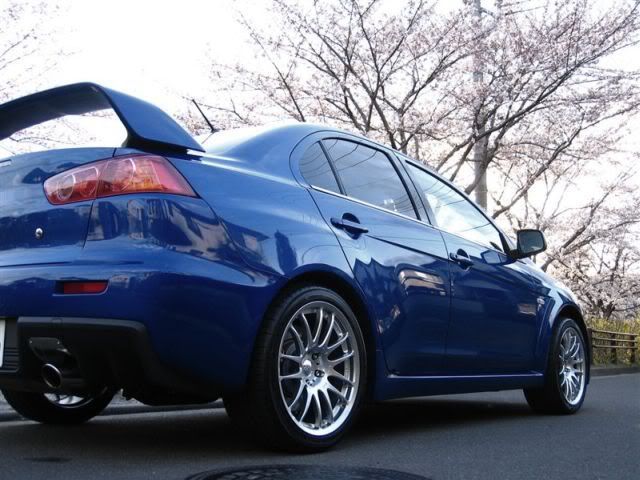 Here's 8.5 +31:




Here's 9.0 +22:




Here's 9.5 +22:

For more examples visit our Wheel Gallery.
FAQ

​
Q. Why are those offset recommendation numbers not evenly spaced?

-Because those numbers are commonly found manufacturer offsets, not absolutes.

Q. I am ordering wheels, but what numbers do I pick?
-Any wheel that will be mounted on the X needs a PCD of 5x114.3. Make sure you know what center bore the wheel's mounting hole is. The stock hub's bore is 67.1mm. You must purchase a ring adapter if the replacement wheel's center bore is larger, for example at 73mm.
Q. How do I see what offset my wheels are?
-Inspect the inner part of your wheel where tire weights are stickied, somewhere you should see an ETxx where xx is your offset.
Q. I'm confused, isn't a higher +offset supposed to make the wheels stick out more?
-No, the higher a +offset, the more distance between the wheel's centerline to it's hub-mounting surface. When that wheel is mounted to the car's hub, that offset distance gets added INSIDE of the wheel-well. That's why when someone says the wheels stick out 10mm over stock, it means the offset was reduced by 10mm, for example +38 to +28.
-The lower the offset, the more your wheels stick out.
Q. I want to run 9.5" +15 or some crazy low offset?
-Not recommended: At any point where the wheel/tires begin to stick out of the fenders instead of being tucked in will result in an increase in drag. You will lose mileage and performance. Your turning radius will begin to deteriorate, and your suspension will become strained from the exaggerated track width.
-The 9.5" +22 offset is already very aggressive and at the very edge of the fenders. Any further out and your side skirts, doors, and rear quarter panel will become sandblasted by the road debris kicked up by your tires.
Q. I want to run 10" or wider wheels?
-Not recommended: You will have to run 275 to 285 tires and there are no traction benefits outside of a race circuit on dry tarmac. You will gain a lot of unsprung weight. You will lose steering/handling response from your fat tires, which will also cause you to lose big-time on wet performance.
-265's on 9.5" wheels should be the limit on street driven cars with occasional track days.
Q. What is an ideal, balanced fitment that gives me a gain in performance over stock without lowering?
-A forged 9.0" wheel with an offset of +25 to +32 and 255/40R18 tires.
Q. What setting should I use on my torque wrench when installing lug nuts?
-If dry torque, 80 ft/lbs.
-If wet when using anti-seize, 70 ft/lbs.
Q. I have 9.0 wheels and 255 tires like you recommended, so how come on full-lock my tires rub against the inner liners?
-You probably have a lower offset than +25 with your 9.0 wheels. Tires of different manufacturer's can also vary even with the same specs.
-For a proper DIY fix of inner fender rub see
this thread
.
Help this FAQ grow by posting your questions or comments, stories or pics.