For the individual who wishes to purchase spacers, keep the following details in mind when ordering:

PCD must be 5x114.3
-Try to avoid universal fitting spacers.

The center bore of the spacer is 67.1
-The center bore (CB) is the size of the machined hole on the spacer that fits on the hub of the car. Your spacers should have a CB of 67.1 mm to exactly match and mate with the hub so it is kept in place without vibration and precisely positioned. This is "hub-centric."

Hub-centric vs. Lug-Centric
-As mentioned before, you want hub-centric, not lug-centric! Hub-centric is where the load bearing from your wheels is at the hub. All modern cars are hub load bearing.
-Lug-centric is where the load bearing from your wheels is at the studs, which can lead to premature failure of the studs or worse as the studs were designed to hold the spacer/wheel against the hub, not to hold the car up!
-Same principle applies to buying wheels without spacers, as you would want to purchase wheels with the correct CB to be hub-centric. An acceptable alternative is to fit an adapter so a bigger CB wheel can mate appropriately with the smaller hub size. Ex. 73mm CB wheel -> ring adapter -> 67.1mm hub.

Match the wheel's CB with the spacer's hub ring
-You've already made sure the CB of the spacer is 67.1, now you need to make sure the CB of the wheel can fit precisely on top of the spacer's ring. Many aftermarket wheels have a CB of 73mm to accommodate smaller hubs like ours. Make sure the spacer's hub ring is specifically 73mm as well (your wheel CB will vary, please check).
-Get plastic composite rings, not aluminum (exp. below). You can find any size from online vendors such as 1010tire.

5mm, 7mm, 10mm, 15mm, 20mm, or 25mm?
-A 5mm spacer will not require longer studs. Anything more than 7mm will require the use of extended 12x1.50 studs.
-If you have stock Enkei or BBS and want a slightly wider track without compromising safety, 15mm or 20mm spacers will do the trick.
-Going up to 25mm is considered aggressive and is usually not recommended, however if you know what you're doing 25mm should be the limit.
-The choice of what size spacers to go with is up to you, but if you are not sure post a question.

Get quality spacers
-Hardened aluminum such as A7075 Duraluminum is a good example.
-Recommended brands are Project Kics, H&R TRAK, or KSP-Real.


Below is a 5mm spacer on the MR with a hub ring adapter:



A 15mm spacer mounted on the front hub with extended studs: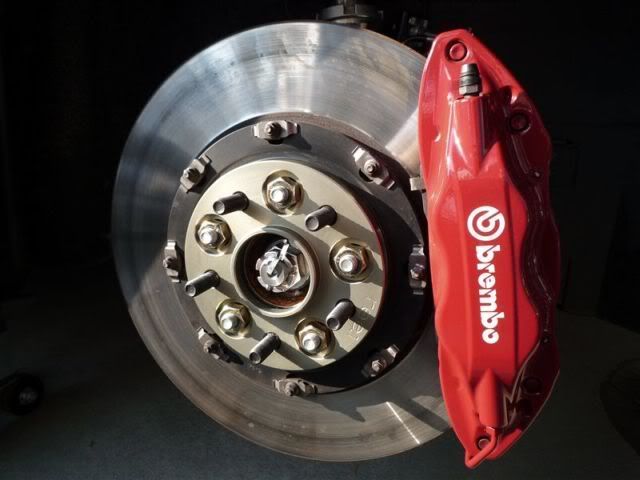 A 25mm spacer mounted on the front hub with extended studs:
Q. How do you calculate offsets with spacer width?
A.
When a spacer is added, the thickness of the spacer is subtracted from the offset of the wheel to give the new offset. Ex.
18x8.5 +38 offset with 15mm spacer is +38-15, giving you 23mm as the new offset.

Q. I heard you don't need hub-centric spacers?
A. Wrong!
A non-hub-centric spacer uses studs to center and bear the load of the wheel. Studs can not center the wheel, they are never in straight and if the wheel's load is transferred to it over time it will fail/break. Hub-centric spacers appropriately transfers the load directly to the hub itself. Hub-centric spacers, just like hub-centric rings will increase road feel and reduce vibration.
Q. Should I anodize or powder coat my spacers?
A. You should have gotten quality spacers to begin with so there is no need! Only poor quality spacers need anodizing and the paint might introduce vibrations.
Q. My spacers have a removable hub centric ring?
A. That should be fine provided that the CB is 67.1 to mate with the hub and the ring on the wheel side is the appropriate bore size, whatever it may be.
Q. I heard by running spacers in the front only you reduce understeer and the car rotates better?
A. For the Evo, many gymkhana drivers run a wider track in the front to help them turn, but they are running wider wheels with lower offset in the front compared to the back with same size tires and no spacer. Wider track in the front does help you turn but you need to adjust a lot more than just track to make it work well. If you are a daily driver, forget about it.
Q. I heard spacers were unsafe?
A. They will be safe if you follow the guidelines and stay with conservative widths. That said, it's better to get wheels with the correct offset in the first place - try to only use spacers as a last resort.
Q. I feel vibrations after installing spacers? Torque settings for spacers?
A. Make sure you have a hub ring and your spacers are hub-centric. Check torque settings:
-> 5mm spacers with no extended studs: Dry torque spacer + wheels down to the hub with 100 lb/ft force.
-> 10mm-20mm spacers with extended studs: Dry torque spacer to 100 lb/ft. Dry torque wheel on top of spacer to 80 lb/ft.
Q. Why do you recommend plastic composite rings over aluminum?
A. Plastic rings are better than aluminum for several reasons, one is that the hub of the car is cast iron, so if another type of metal is placed directly against it then the two will react and corrode as moisture gets in and may seize. The plastic rings act as an O-ring against the hub sealing two types of metal together, like on an oil filter. Some argue that anti-seize on the aluminum can take care of that problem - but why create a solution to a problem if you can avoid the problem in the first place? Both types are heat resistant but plastic costs less.
Help this FAQ grow by posting your questions or comments, stories or pics.